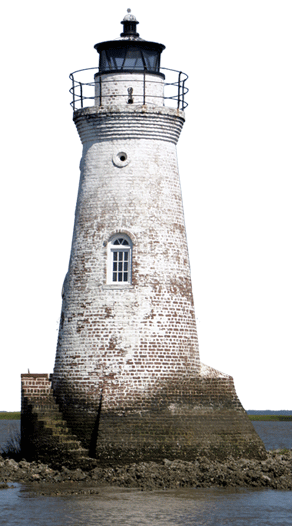 Clinging to the tip of Cockspur Island, the Cockspur Lighthouse has withstood crashing waves, the roar of cannons and the wrath of time. For over 150 years, the lighthouse has defiantly stood watch over the south channel of the Savannah River.
Since 1958, the Cockspur Lighthouse has been cared for by the National Park Service as part of Fort Pulaski National Monument. Over the years, steps have been taken to maintain the fragile strucutre on the tip of Cockspur Island.
Today, the lighthouse faces the threat of collapse. Heavy erosion at its base, the constant battering by nature, and advanced shipworm infestation has put the lighthouse's very survival in jeopardy.
Fort Pulaski and the National Park Service are working hard to stabilize the structure. The structure was recently added to the Georgia Trust for Historic Preservation Places in Peril List in hopes of bringing more attention to the threatened landmark.
To learn more about the preservation efforts concerning the Cockspur Lighthouse follow the links below to view updated news and images of the continuing work.