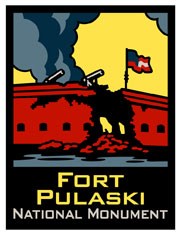 Volunteers: As a volunteer, you can help the park provide information to visitors, assist rangers in protecting the park's historic and natural resources, and provide other help that utilizes your talents. Click on the link above to learn how to become a National Parks Volunteer.
Donations: All donations to Fort Pulaski National Monument stay within the park and are used to support visitor-related programs such as living history programs and special events. Donations can be made to the park via a check made out to "National Park Service" and mailed to:
Fort Pulaski National Monument
P.O. Box 30757
Savannah, GA 31410-0757
Bookstores: By purchasing items in the park's bookstore, you are helping to support the park. The bookstore is operated by Eastern National, a non-profit cooperating association that contributes a portion of its sales to the park for visitor-related projects.