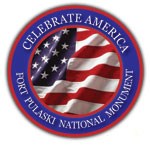 For: Immediate Release
Contact: Charles E. Fenwick, 912-786-5787
Celebrating America
Saturday, June 30, 2007
To help celebrate the Nation's 231st Birthday, Superintendent Charles E. Fenwick announces that the National Park Service and Fort Pulaski National Monument will present a special patriotic Living History event on Saturday, June 30, 2007. Highlights of the day will include a Civil War baseball game using 1860s rules and equipment, cannon firings, and a brass quartet performing patriotic music. Activities begin at 10:30. Fenwick remarked, "This is a great opportunity for residents and visitors alike to learn, have some summer fun and take pride in America."
The authentic Civil War baseball game will begin at noon, and will feature living history soldiers of the 48th New York Infantry. A special baseball game will follow for families and spectators to participate as the players. This will be a fun opportunity for the public to play a vintage game of baseball inside FortPulaski. Perhaps you, too, can hit a "daisy cutter" to drive in an "ace!"
During the Civil War soldiers at Fort Pulaski often played America's pastime to overcome the boredom of garrison life. One of the earliest known photographs of a baseball game was taken in 1862 at Fort Pulaski showing members of the 48th New York Infantry.
Savannah's Sinfonietta Brass Players will perform a special concert of patriotic music inside the fort immediately following the National salute at 2:00 PM. Visitors are encouraged to bring lawn chairs, blankets and non-alcoholic beverages to enjoy the concert.
Throughout the day living history soldiers will be offering cannon & musket demonstrations. One of the cannons used will be the largest functional reproduction cannon in the United States. A special salute to the National colors will be held at 2:00 PM, marked by the firing of a battery of artillery pieces
10:30 Cannon Firing
11:30 Cannon Firing
12:00 Civil War Baseball Game
1:00 Family Vintage Baseball Game
1:30 Musket Firing
2:00 National Anthem & Salute
2:10 Patriotic Brass Concert
3:00 Cannon Firing
3:30 Musket Firing
4:00 Cannon Firing
Additional cannon firings and musket demonstrations are scheduled for Sunday, July 1, 2007. Call the park for details. A fee of $3 per person is charged; ages 15 and under are free. FortPulaskiNational Monument is on U.S. Hwy 80, 15 miles east of Savannah. The park is open daily 9-6:30; park gates close at 6:45 PM.