Outdoor Activities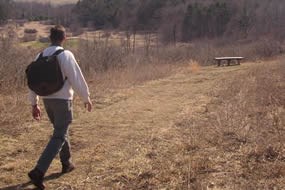 A visit to Fort Necessity includes a walk to the reconstructed fort in the Great Meadow. The fort is about 200 yards from the visitor center. Talks, tours, and historic weapons demonstrations are offered in the meadow near Fort Necessity during the summer months.
Five miles of hiking trails lead through forest and meadows around Fort Necessity. Cross-country skiing is available in winter. The trails are not groomed. Trails lead through forest and meadows around Fort Necessity. There is also a loop trail at Jumonville Glen and a short walking path at Braddock's Grave.
At the Braddock Grave Unit, outdoor exhibits explain the ill-fated Braddock Campaign of 1755. A trace of the Braddock Road is clearly visible at this site. A monument marks the final resting place of British General Edward Braddock.
Jumonville Glen, approximately seven miles from Fort Necessity, is the site of Washington's first encounter with the French. A half-mile loop trail leads from the parking lot to the glen. A natural rock outcropping marks the site of the skirmish. Interpretive signs help visitors understand the event. Jumonville Glen is open from 9:00 a.m. to 4:00 p.m. during the summer months only.


Last updated: October 25, 2021