Directions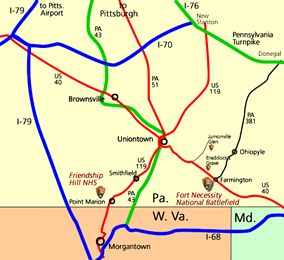 Driving Directions
The main unit of the park is located 11 miles east of Uniontown, Pennsylvania on U.S. Highway 40. The visitor center, reconstructed Fort Necessity, Mount Washington Tavern and picnic area are located in the main unit of the park.
From Downtown Pittsburgh: approx. 1.5 hrs.
US 51 South to Uniontown
US 119 South - (bypass) to
US 40 East
Park entrance is on right 11 miles east of Uniontown.

(Alternate Route - PA Turnpike 43 from Jefferson Hills to US 40 East - Toll = $5.00)

From Pittsburgh Airport: approx. 1.75 hrs.
I-376 toward Pittsburgh
Exit right on I-79 south toward Washington PA
Exit left on I-70 east
Exit #37A - PA 43 south toward California PA - Tollroad ($1.80 + $1.40)
Exit US 40 east toward Hopwood
Park entrance is on right 11 miles east of Uniontown.
From The Pennsylvania Turnpike from eastern PA: approx. 45 mins.
Exit #91- Donegal PA 711 south to US 381 Stay on US 381 south to US 40
Right on US 40
Park entrance is one mile on left.
From Western Maryland: 25 minutes.
Exit 14 from I-68 to US 40 west
US 40 west toward Uniontown, PA
Park entrance is on left one mile past Farmington, PA.
From Morgantown, WV: 40 minutes
I-68 east over Cheat Lake
Exit #10 HWY 857 north to PA 43
PA 43 north to US 40 (toll $1.40)
US 40 east 12 miles
Park entrance is on the right
Plane
Fort Necessity is less than 2 hours from Greater Pittsburgh International Airport. Commuter flights may be available to Morgantown, WV (45 minutes away) or Latrobe, PA (1 hr 15 minutes away.)
Bus
Commercial Bus Service is not available to the area. Regularly scheduled local busses from Uniontown to Nemacolin Woodlands resort pass Fort Necessity. Call Fayette Area Coordinated Transport (FACT) 724-430-4600 for schedule information. Toll Free: 1-800-321-7433.


Last updated: September 17, 2015