Fort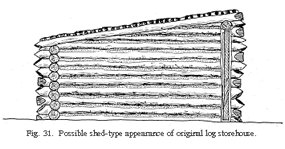 Fort Necessity is not a typical military fort. It is small and simple, even for a wilderness fort. It consists a small storage shed in the center of a round stockade. The stockade is 53 feet in diameter. Earthworks were constructed outside the stockade.
Why so small?
When George Washington arrived at the Great Meadows in May, he intended to set up a camp from which to base his operations while waiting for additional militia and British regulars. After encountering and dispatching the French party led by Jumonville, Washington returned to the Great Meadows and fortified his position by building a stockade and earthworks around his storehouse. When he built the fort there were only 160 men with Washington. During the battle, there were 400 British at Fort Necessity. The original fort was destroyed by the French force that defeated Washington at the Battle of the Great Meadows on July 3, 1754.
How Fort Necessity was Rebuilt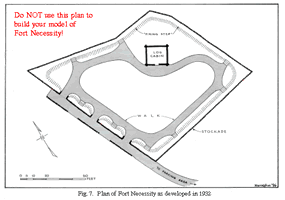 Archaeological Explorations
For a long time, only low ridges and shallow depressions marked the site of the fort. These depressions were thought to mark the perimeter of the stockade wall. The ridges did not form a complete enclosure. It was thought some of the ridges had washed away in floods. For over a century experts had debated whether Fort Necessity was triangular or diamond shaped. In 1901 a careful study of the site revealed that the ridges formed a diamond shape.
When Fort Necessity was established as a National Battlefield in 1931, archaeology was conducted to determine the location of the stockade. The archaeological investigation in 1931 provided the basis for reconstructing the fort on the original site in 1932.
Some fragments of stockade posts were unearthed near the depressions. This made some people more sure that the ridges and depressions were the remnants of the fort stockade. As a result, the 1932 reconstruction was a large diamond shaped stockade. This reconstruction was seriously flawed but was interpreted to the public as correct.
In 1952 and 1953 the Archaeologists looking for evidence of a triangular fort and entrenchments found something surprising. The fort was neither a diamond or a triangle, but a circle. These explorations revealed the true size, shape and location of Fort Necessity, providing the basis for the accurate reconstruction visitors see today.
credits
The information and illustrations on this page come from J. C. Harrington's historic archeology report, New Light on Washington's Fort Necessity.
Last updated: June 3, 2020