Pets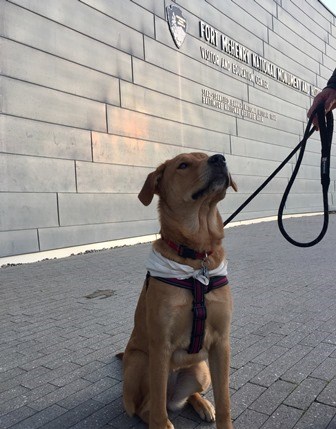 Fort McHenry National Monument and Historic Shrine is a
pet-friendly park
. Visitors are welcome to bring their pets to explore areas of the scenic park and walk the seawall trail, but please be mindful of the following safety tips, federal laws, and regulations:
Pets may be walked in designated areas of the park while on a leash that does not exceed
six (6) feet in length
. Leaving a pet unattended and tied to an object at any time is prohibited.
Pets are not permitted in the Historic Zone (area within the split-rail fence) and any other buildings, including the Visitor and Education Center. Service animals are welcome inside the Historic Zone and buildings. For a definition of a service animal, please see the
Americans with Disabilities Act (ADA) definition
.
Pet owners are responsible for cleaning up after their pets. Garbage cans are available throughout the park for disposal of pet waste. It is unlawful to abandon waste bags in the park. Please bring your own supplies as the park is not responsible for providing clean up bags to visitors.
It is unlawful to allow pets to harass and/or chase the wildlife. Please maintain control of your pet and keep a safe distance from any other animals in your general area at all times.
Please be mindful of weather conditions when bringing your pet to the park. Extremes in hot and cold tempatures can sometimes be harmful to pets. Water fountains are available throughout the park but visitors should bring their own containers in order to provide water to their pets.
If you see an unattended pet please notify park staff immediately.
For more information, please consult the
Superintendent's Compendium of Designations, Closures, Permit Requirements and Other Restrictions Imposed Under Discretionary Authority.
Volunteer Opportunities
We are excited to offer a unique volunteer opportunity for dog walkers who want to help preserve, protect, and interpret the history and resources of the birthplace of 'The Star-Spangled Banner.'
The Fort McHenry Paw Patrol
is a group of volunteers and their four-legged friends who patrol the park and demonstrate good canine behavior to other visitors. Find your BARK and join the Paw Patrol today!

Last updated: August 5, 2018