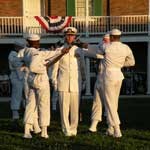 The U.S. Navy, American Flag Foundation, and the National Park
Service have teamed up to launch the summer twilight tattoo season in grand
style!
U.S. Navy Band, Drill Team and Color Guard.Following the concert, the U.S. Navy Drill
team will perform modern rifle exercises. Their split-second timing and precision marching have dazzled audiences
around the world.For a flavor of
history, the Fort McHenry Guard, will demonstrate hand-to-hand combat exercises
and fife and drum music from the War of 1812.
The highlight of every twilight tattoo is the designation of
the "Honorary Colonel of the Fort McHenry Guard."Vice
Admiral Robin R. Braun, Chief of the Navy Reserve will be honored as
"Colonel of the Fort McHenry Guard." Pas t Honorary Colonels have
included philanthropists, sports heroes and those who have given to the
community.This year marks the
Centennial of the U.S. Navy Reserve.
June 14 is Flag Day! - There will be a special nationwide
"Pause for the Pledge" ceremony at 7:00 p.m. in observance with the
237th anniversary of the adoption of the American flag.
Following the tattoo, visitors will be invited to fold the great 30 x 42-foot Star-Spangled
Banner flag and hear the firing of the fort's evening gun.