Defenders' Day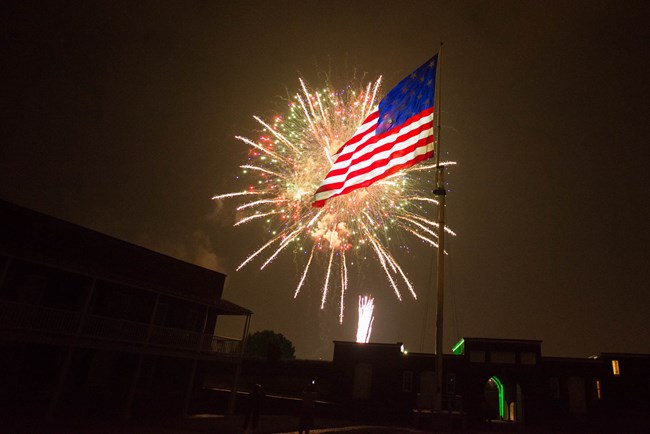 Known as Baltimore's oldest holiday, Defenders' Day commemorates the anniversary of the Battle of Baltimore and the writing of the nation's national anthem, "The Star-Spangled Banner." The weekend long event takes place in September and includes special ranger programs, living history demonstrations, concerts, and an evening fireworks display. This year's program will take place September 11-13, 2020.

Check back during the summer of 2020 for more details on next year's Defenders' Day event!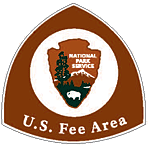 Admission Fees and Passes
The Defenders' Day evening program, including the concert and fireworks, will be
free!
The
entrance fee
to the Star Fort is $15 per adult 16 years of age or older. Children 15 and younger are free. This fee provides the visitor with a 7-day entrance pass to Fort McHenry National Monument and Historic Shrine.
'America the Beautiful' or Fort McHenry annual passes
grant admission to the passholder and three adult guests.
Ranger programs, access to the park grounds, and the Visitor and Education Center are free.
Parking and Transportation
Limited, free parking will be available. All public parking is available on a first come, first served basis. Parking areas are closed to all vehicles whose passengers leave the grounds for more than one hour.

There is a limited number of bus parking spaces in the main lot. Buses are not permitted to park in the overflow parking lot. Vehicles of any type are not permitted to park, idle, or drop off in the designated fire lane.

Due to the increased number of visitors during Defenders' Day weekend, visitors are encouraged to use alternate or public transportation. Some options include:

Bus - a public bus stop is located outside of the park main gate. Both Maryland Public Transit and the Charm City Circulator buses pick up and drop off at the station.

Ride share - visitors arriving by taxi or ride share may be dropped off in the main parking lot.
.
Water Taxi - the park is accessible via Baltimore Water Taxi. Please note that tickets for the Water Taxi cannot be purchased at the park. Visitors must begin their Water Taxi trip at another station if htey wish to board from Fort McHenry.

Bicycles - bicycles are permitted within the park. Riders must adhere to all applicable federal and state laws and obey posted speed limits. Bicycle racks are located in the main parking lot on (locks and chains are not provided). Bicycles are not permitted in the historic zone or Star Fort.

Recreational scooters, including those part of a ride share program, are strictly prohibited within the boundary of the park. Fort McHenry is a restricted area for scooter and bicycle ride share drop off and pick up. Ride share vehicles cannot be left behind or unattended within the park. A rack is available outside of the main gate to dock scooters.

For the safety of visitors and park resources, use of the following inside the park is not permitted: skateboards, inline skates, and roller skates.

Food and Dining
There are no food services or dining facilities located within the park. Vending machines offering beverages and snacks are located outside of the Visitor and Education Center. Visitors are welcome to bring food and beverages into the park. Picnic areas are located in the Orpheus Grove near the main entrance gate. Trash and recycling bins are located throughout the park.

Visitors may picnic on the East Lawn while watching the Defenders' Day performances.

The use of stoves, grills, and fire is prohibited.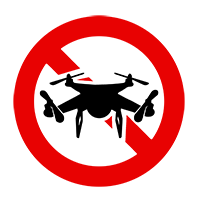 Recreation
The park provides many reacreational opportunities including walking and bicycle paths, picnicking, and dog walking.
Visitors are welcome to set blankets and lawn chairs on the lawns of the park during normal park hours and evening programs. The use of hammocks is not permitted.
The Sea Wall Trail will be open for use during regular park hours. Help us preserve the historic Sea Wall by not sitting, standing, or walking on the structure.
Kites may be flown on the Orpheus Grove. Tethering a kite to an other object or leaving it unattended is not permitted. Kites may not be flown on the East Lawn.
Some activities are restricted in an effort to preserve and protect the natural and cultural resources of the park. Organized games such as baseball, football, soccer, volleyball, frisbee, etc. cannot be played inside the park.
Launching, landing, or operating unmanned aircrafts such as drones is strictly prohibited.
Pets
are welcome in the park but must be on a leash not exceeding six (6) feet in length. Visitors are required to clean up and discard all pet waste. Pets are not permitted in the Historic Zone or the Visitor Contact Station.
Service animals
are welcome in all areas of the park. Leaving pets unattended in the park, including in a vehicle, is not permitted.
Safety and Security
We want to ensure that Defenders' Day is a safe and enjoyable event for all. Consider the following policies and tips when planning your visit.
Saturday programming will include artillery firing and fireworks. Individuals who are sensitive to loud and sudden noises are strongly encouraged to take considerations when planning their visit.
All activities and events are subject to change due to weather. Please check local weather advisories and refer to our website for any program
cancellations or modifications
.
Please note that there will be several activities taking place throughout the weekend that involve loud noises, including musket firing and fireworks. Please take into consideration any noise sensitivities that you (or your pets) may have.
Warm temperatures are possible in September. Wear sunscreen and drink plenty of water during your visit. Water fountains are available inside the Visitor and Education Center. Bottled beverages are available for purchase in the gift shop and from vending machines.
All containers (backpacks, purses, diaper bags, coolers, etc.) and vehicles are subject to search and inspection. Bags and coolers of all sizes are permitted in the park. Leaving personal property unattended in the park is prohibited.
The posession and use of fireworks, firecrackers, and sparklers is prohibited.
For more information on park policies and uses, please refer to the Superintendent's Compendium.
Last updated: January 31, 2020