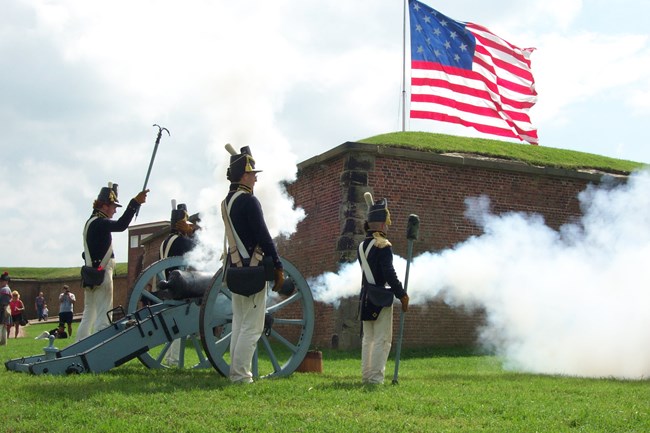 During these last days of the Star Spangled Sailabration week, your visit to Fort McHenry NM&HS may include large crowds, limited parking, and special programs.
The current forecast for the event is 90+ degrees with a heat index of 100+ and 48% humidity. Sunburn, heat exhaustion and heat stroke can result from excessive heat exposure. Senior citizens, young children and those suffering from chronic medical conditions may be more susceptible.
Take the following precautions to protect yourself against the heat and sun:
Drink plenty of water.
Bring a water bottle and drink water throughout the day even when you are not thirsty.
Minimize consumption of beverages containing caffeine of alcohol.
Eat throughout the day.
Avoid overexertion and reduce exertion during the hottest hours.
Wear loose fitting clothing made of a breathable material.
Wear high protection sunscreen on all exposed skin and reapply every 3 hours.
Loosen tight clothing.

Things to Bring
In order to ensure a fun and safe day, be sure to bring:
-Plenty of water
-Proper clothing for the weather (comfortable shoes, a hat, etc.)
-Sunscreen
- If you ride your bicycle, bring a lock for the bike rack

Things Not to Bring
The following items should not be brought to Fort McHenry NM&HS during this event:
-Tents
-Beach or patio umbrellas
-Sparklers or fireworks of any type
-Kites, Balls, Frisbees, etc.
The normal recreation area will serve as the main air show viewing area and thus will be too crowded for such activities.
-Pets
Although at most times Fort McHenry NM&HS allows leashed pets outside the historic zone, during this event the park will have large crowds and roving K9 units that, together with the long day and expected hot weather, make the event unsuitable for pets.