World War I Hospital

U.S. Army General Hospital No. 2
Fort McHenry's most active time period in its long and varied history was not the War of 1812, but during the First World War.

It is hard to believe now, but at one time, the Fort was a very busy military base. A 3,000-bed receiving hospital was constructed around the old Star Fort. It was a facility through which more than 20,000 wounded and sick soldiers from World War I would pass for treatment on their way back to duty or civilian life. Some patients stayed two weeks, others two years.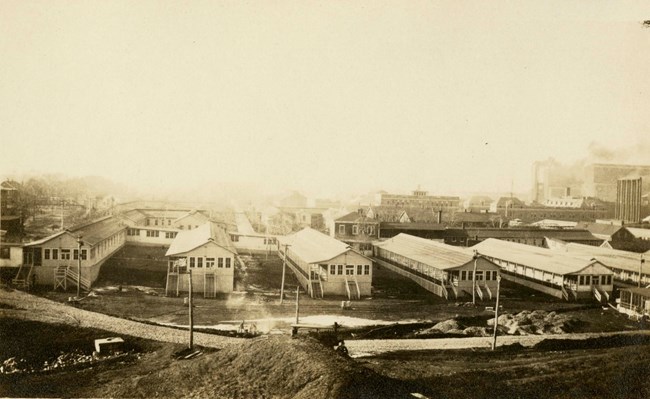 Construction and Staffing

Construction started on what became known as U. S. Army General Hospital No. 2 in 1917 and by the time it was through over 100 structures had been built on the 40 plus acres – covering virtually every foot of ground. It was the largest receiving hospital in the country.

To take care of the soldier-patients was a staff which included some 200 doctors, 300 nurses, 300 medical corpsmen, and 100 civilian hospital aides.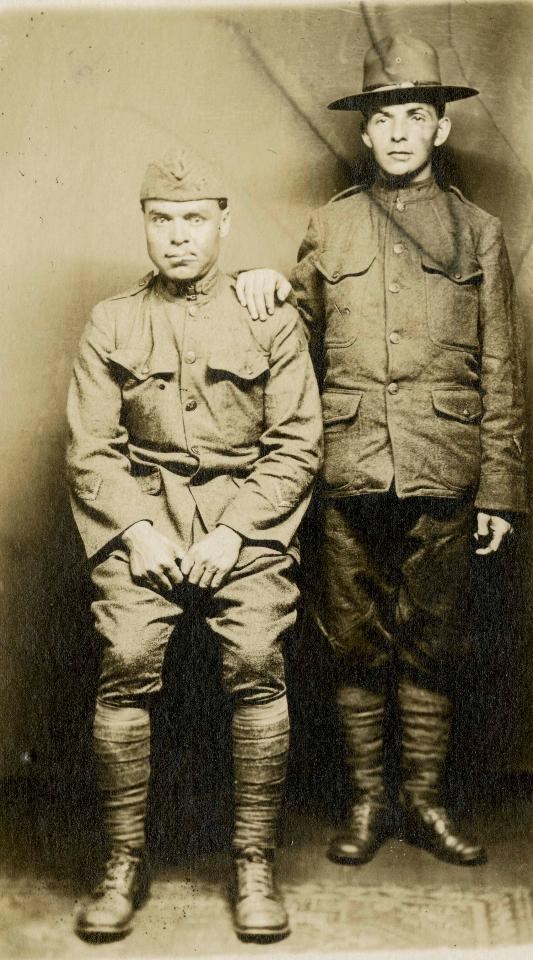 Surgical Center

As time went by, Fort McHenry became less a receiving hospital and more a surgical center. Army doctors, working with local medical schools and hospitals, developed many new surgical techniques. Much medical history was made here, particularly in neuro-surgery. Great advances were made in plastic surgery as well. Soldiers who had lost portions of their faces left the hospital with new noses, new ears, and other miraculous results of the then new surgical techniques. Facial reconstruction surgeries, as they were called, would allow these soldiers to have as close to a normal life as possible after suffering such gruesome injuries.
Occupational Therapy

Great strides were also made in occupational therapy. The men were taught new job skills that could be used once they were dismissed from the hospital. Subjects taught in the Fort's vocational school included telegraphy, metal work, basketry, commercial art, shorthand and typing. Carpentry, upholstery, auto repair, bookkeeping and even knitting were also offered to keep the wounded occupied and provide them with a possible means of livelihood. It was the first serious attempt to give disabled American veterans real employment.

Probably the spirit of the hospital's rehabilitation program was best depicted in an illustration on the anniversary cover of "The Trouble Buster," Fort McHenry's own magazine, printed on its own presses by it own patients.
Nationwide Flu Epidemic
Women played a major role in the military during the First World War. Nurses, dressed in their starched white uniforms and caps, were employed by the Army. Employing their skills and caring ways, they played an important role in helping thousands of their soldier-patients on the road to a speedy recovery.

They would be sorely tested in 1919 when a flu epidemic rampant throughout the country took a heavy toll at the hospital – among both patients and staff. Some 300 persons came down with it, and at least 100 of them died. The nurses, while exposing themselves to the risks of the flu, did their best to take care of those patients wounded as well as those affected by the flu. They made rounds of all the patients four times daily, sponging faces and giving cool drinks of milk or orange juice.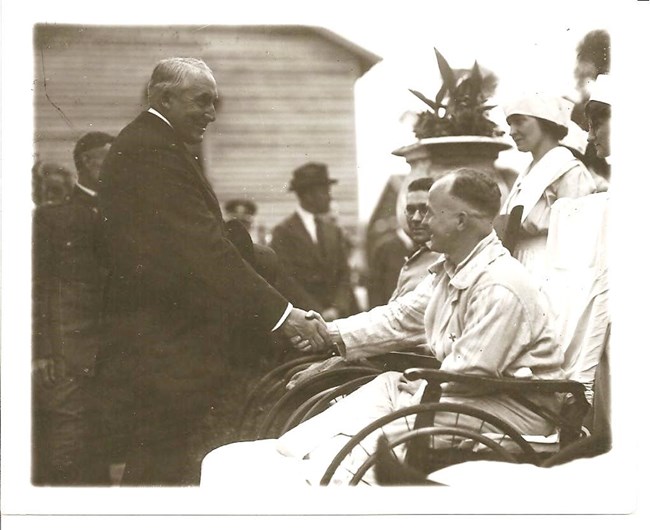 Presidential Visit
On June 14, 1922, the patients and hospital personnel were treated with a visit by their Commander-in-Chief, President Warren G. Harding. He was at the Fort on this special Flag Day to dedicate the newly erected statue of Orpheus, a memorial to Francis Scott Key and the defenders of Baltimore in 1814. The statue can be seen at the park today.
The Hospital Closes
The last of the patients of General Hospital No. 2 were released in 1923. For the first time in six years, not one soldier was in Fort McHenry for medical treatment. The War Department would make the Fort a National Park in 1925 and tear down the empty, decaying hospital buildings two years later. The old brick Star Fort and its silent cannon were all that remained of the 125 years of military occupation. A new phase in the life of the old fort was about to begin – that of national park.
Last updated: November 16, 2020