William Williams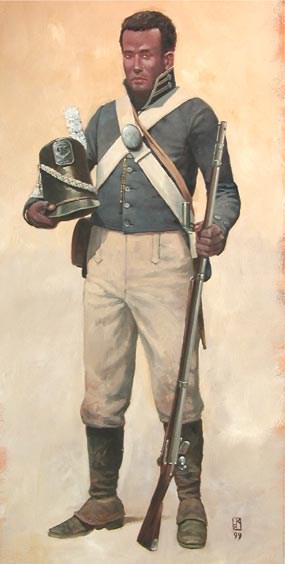 The name William Williams (Frederick Hall) is listed with the names of other recruits on the muster roll of the 38th U.S. Infantry. It seems like any other name but this name is an alias, a name made up to protect the identity of a young Marylander escaping slavery by joining the United States Army. Federal law at the time said that enslaved persons could not join the army because they "could make no valid contract with the government" and it was often necessary for freedom seekers (those escaping slavery to obtain the basic human right of freedom) to create new identities in order to get jobs of any kind.

"Williams" was the name used by Frederick Hall, or a man who "sometimes calls himself Frederick Hall," according to an escaped slave ad placed in the newspaper with a Forty Dollar Reward by Benjamin Oden. Hall was 21 when he sought his freedom from slavery in Prince Georges County and enlisted on April 14, 1814.

Hall was enlisted as a private in the U.S. Army and was assigned to the 38th U.S. Infantry Regiment. The officer who enlisted William Williams did not question him. Perhaps, William (or Frederick) was able to pass, or move within white society as a white person in order to survive. The newspaper ad posted by Benjamin Oden describes Hall as "a bright mulatto and so fair as to show freckles," which may mean that he was a light-skinned man. Perhaps the officer was in desperate need of soldiers and looked the other way. Maybe the officer was a man who did not believe in slavery or even wanted to help freedom seekers. Whatever the case, Williams received his enlistment bounty of $50 and was paid a private's wage of $8 per month.

In early September, 1814, the 38th U.S. Infantry was ordered to march to Fort McHenry. During the bombardment, Williams was severely wounded, having his leg "blown off by a cannonball." He was taken to the Baltimore Hospital, where he died two months later.

Williams was not the only black man to serve in the armed services at this time. There are numerous records of black sailors. George Roberts, a free black, served on the privateers Chasseur ("Pride of Baltimore") and Sarah Ann. Charles Ball was a Seaman in Commodore Joshua Barney's U.S. Chesapeake Flotilla who later published his memoirs in 1836.

Gabriel Roulson was an Ordinary Seaman on the U.S. Sloop of War Ontario. . Many other free black men worked in Baltimore during the period as also had many skilled free blacks who, as naval mechanics, sailmakers, riggers, carpenters, and ship caulkers. Their work constructing helped build naval ships and privateers that helped make it possible for the United States to bring war to the British merchant fleet and navy. Many free black men, sometimes working alongside enslaved persons slaves constructed gun carriages and built defenses. Williams/Hall is unique because he served in the U.S. Army, a branch of the armed services that was almost exclusively white at the time.

All Americans can take pride in the contribution of Williams/Hall and other blacks whose names are sometimes hiding in plain sight in the historical record may be lost to history. These brave men made important contributions in defense of fought beside white defenders and helped save Baltimore during its time of crisis in 1814.
Last updated: October 16, 2020