The Great Garrison Flag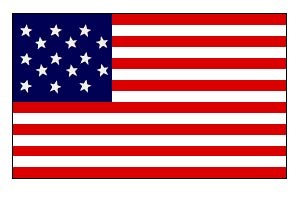 During the War of 1812, the people of Baltimore were certain that the British would attack the city. Not knowing for sure when an attack would occur, they spent months preparing for it. Everything was made ready at Fort McHenry to defend Baltimore. But, there was no suitable flag to fly over the earthen/brick ramparts of the Star Fort.
Major George Armistead, the commanding officer, desired "to have a flag so large that the British will have no difficulty in seeing it from a distance." Major Armistead got his wish when General John S. Stricker and Commodore Joshua Barney ordered two flags, especially made for the garrison, from Mary Pickersgill, a well-known flagmaker in Baltimore. She worked relentlessly on the heavy, woolen flags, one of which was to be the largest garrison flag ever flown. It measured 30 feet high by 42 feet long. The other flag, called a "storm flag," measured 17 feet by 25 feet.
The larger of the two flags had stripes two feet wide, and stars 24 inches from point to point. At that time, it was the practice to add one star and stripe for each new state joining the Union. In 1814, the United States flag had 15 stars and 15 stripes.
The 30' x 42' flag was the one that Francis Scott Key saw on the morning of September 14, 1814. It inspired him to write the words to "The Star Spangled Banner." Today this flag is displayed in the Smithsonian Institution's National Museum of American History, Washington, D.C.
Last updated: February 26, 2015