The Carcasses Red Glare
HMS VOLCANO: THE CARCASSES RED GLARE, SEPTEMBER 13, 1814
"And the rockets red glare, the bombs bursting in air..." F.S. Key, 1814

The bombs and rockets which are commemorated in our National Anthem were not the creation of a poet's imagination. In 1814, the bomb was the most potent weapon and the rocket the most spectacular in Britain's naval arsenal.
Another weapon used against Fort McHenry, which is not mentioned in Francis Scott Key's poem, was the carcass. It was the fireball of Captain David Price's bomb ship, HMS Volcano. The HMS Volcano was one of five bomb ships employed by the British during the naval bombardment of Fort McHenry on 13-14 September 1814.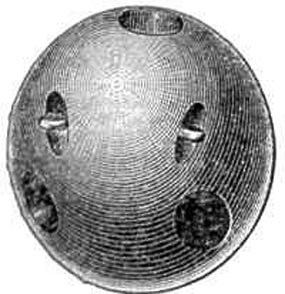 The Carcass Shell
Like the 13-inch bomb shell, the carcass was a hollow cast iron spherical shell weighing 190 pounds. It differed from the exploding bomb in that it was intended to set buildings on fire. It also proved useful at night, as the projectile, while burning, assisted in aiming other shells.
Instead of one vent hole for a single fuse, The carcass had three openings, each two inches in diameter. It was filled with an incendiary composition that upon firing burned for eleven minutes.
The Historical Record
In the late evening hours of September 13th, the final entry in the HMS Volcano's log for that day indicated the number of shells expended since 12 Noon: "10 [pm] heavy rain with squalls, furled sails, firing at intervals. Midnight rain. Fired 72 13-inch & 70 10-inch shells & 4 carcasses"
With a total of 146 shells thrown in a twelve hour period, HMS Volcano alone had expended shells of 10 and 13-inch caliber, at intervals of one every five minutes. A survey of the other bomb vessels showed no entries indicating that carcasses had been used. If the British had captured Fort McHenry and sailed past the Fort, the carcass would have been used to set Baltimore afire.
During the centennial observance in 1914, one of the HMS Volcano's four carcasses was mounted on a granite pedestal which may be seen today in the Star Fort. This serves as a reminder of what may have happened if the events of September 1814 had turned in favor of the British.

Last updated: February 26, 2015