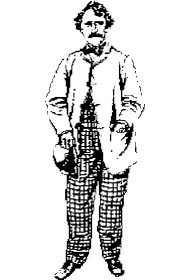 During the Civil War, Fort McHenry served as a Union transfer prison camp for Southern sympathizers and confederate prisoners of war. Usually, prisoners were confined at the fort for short periods of time before being transferred to such larger prisons as Point Lookout, Fort Delaware or Johnson's Island.

In May, 1861, Union officials began arresting Marylanders suspected of being Confederate sympathizers. Many never were charged with a crime and never received trials. Others were released after pledging not to "render any aid or comfort to the enemies of the Union," or by taking an oath of allegiance.
Life at Fort McHenry was very difficult. Each prisoner was given one blanket, but was denied bedding, chairs, stools, wash basins and eating utensils. They used a tin cup, pocket knife, hardtack for a plate, and forks and spoons whittled from bits of wood. Prisoners received three meals each day: breakfast, consisting of coffee and hardtack; a second meal of bean soup and hardtack; and a main meal of coffee, 1/2 pound of salt pork or pickled beef and hardtack. Occasionally, the meat would be rancid and the hardtack moldy. Those prisoners who could afford to do so, bought fresh fruits, vegetables and comfort items from sutlers. Also, sympathizers from Baltimore sent large quantities of food, clothing, blankets and money.