Sea Fencibles

The Sea Fencibles were organized after the passing of an Act of Congress on July 26, 1813. Sea Fencibles were military units commanded by Army officers and posted at a garrison but equipped as naval units. The act specified that the Sea Fencibles would serve in port cities such as Boston, New York, Philadelphia, Norfolk, and Baltimore.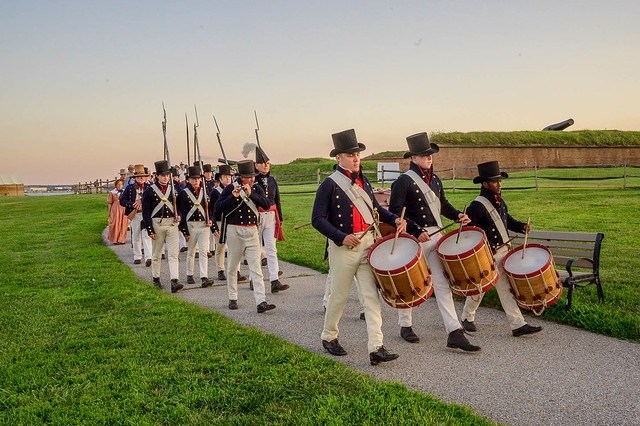 Officers received the uniform, pay, and rations of the Army, while the rest of the company, such as boatswains, gunners, and privates, received the 12 dollars per month and rations of the Navy. They usually wore their own clothing but were issued muskets and drilled as soldiers by part of the U.S. Army. Many of the men were civilian sailors looking for work due to the decrease in the shipping trade caused by the British blockade. The term fencibles meant they were raised for a limited time of service, in this case they were to serve for one year.

Captain John Gill recruited about 104 men in the winter of 1814 for the Sea Fencibles before reporting to Major Armistead at Fort McHenry. William H. Addison replaced Gill when he was commissioned a captain in the United States Sea Fencibles on April 25, 1814. During the Battle of Baltimore, he was supported by a second company under the command of Captain Matthew Simmones Bunbury. Bunbury reported for duty with his company to Major Armistead at Fort McHenry in February 1814 and was later assigned to Fort Covington. On September 11 they were ordered back to Fort McHenry as the British approached and manned the lower water batteries during the bombardment.
Last updated: September 10, 2020