Coast Guard Training Station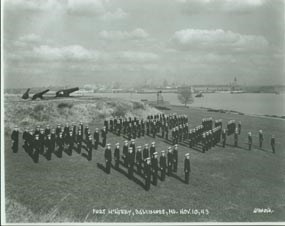 U.S.C.G. Training Station 1942-1945
On February 25, 1942 the Secretary of the Treasury assigned the Coast Guard the responsibility for protecting the nation's port facilities and vessels during World War II. One of the harbors to be protected was Baltimore. Establishment On May 15th, the Fort McHenry Training Station began operations for the men and women who were to engage in port security work. Twenty temporary buildings were erected on the east seawall grounds from the present day Coast Guard tower to the park's main gate.
The Duties
Since fire was always a potential hazard to the waterfront, officials emphasized an extensive thirty day course in advance methods of fire fighting and prevention. The most important activity at Fort McHenry was a program developed to instruct fire fighting and damage control aboard ships.
To assist them the U.S.S. Gaspar De Portola, a damaged Liberty ship, was obtained as a training vessel. Techniques in policing, sabotage prevention and laws of arrest were also taught. With the end of the war in August 1945, Coast Guard officials curtailed the station's activities. They graduated their last class in September, bringing the total number of trained in all their World War II classes at the Fort to 28,053. Shortly thereafter the station was decommissioned.
Today
Shortly after the war ended the temporary buildings associated with the training station were torn down. Today no traces of the training facility remain.
Last updated: February 26, 2015