The Chesapeake Flotilla

The United States Chesapeake Flotilla was formed in 1813 to provide naval protection for the key ports and waterways in the Chesapeake Bay. It was considered part of the US Navy and was under the command of Joshua Barney. Consisting mainly of smaller barges which could be easily rowed through the shallow waters of the Bay, the Flotilla was able to effectively annoy the large cumbersome ships of the British Fleet. However, most of the fleet was destroyed or scuttled during the Battle of Bladenburg. Now on land, the men of the Flotilla unsuccessfully attempted to slow the British advance on Washington. They were then marched to Baltimore to assist in the defense of the city.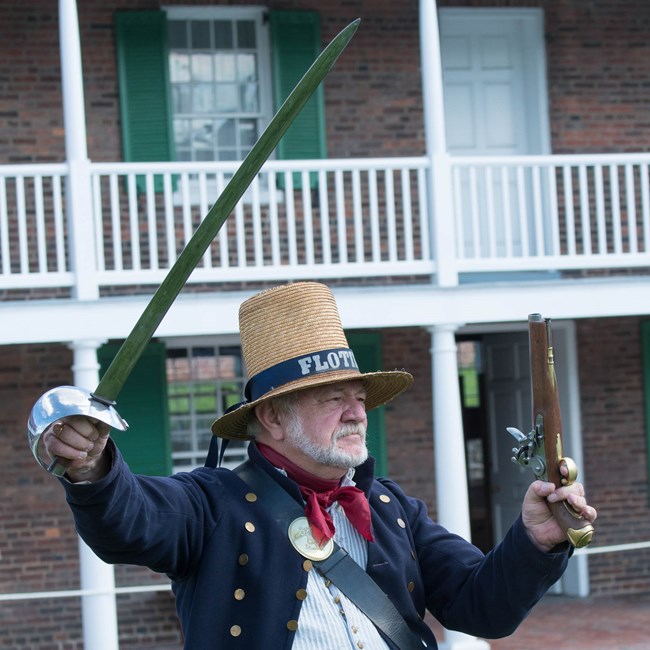 The men of the Flotilla were a rag tag crew of Navy sailors, privateers, local waterman, runaway slaves, and free African Americans. Among these approximately 500 flotilla men was African American Charles Ball, who served as a seaman and cook. A detachment of about 60 men from the Chesapeake Flotilla's 2nd Naval Regiment under the command of Sailing Master Solomon Rodman manned the water battery at Fort McHenry.

As part of the Navy, sailors did not have a regular uniform. Sometimes the ship's captain would decide what the crew would wear. It is likely, however, that many sailors wore blue wool jackets and vests. Their trousers, usually white, but sometimes blue striped, may have been made from linen or heavy canvas. Sailors wore hats that had been waterproofed with "tar" to protect the hat while at sea.
Last updated: September 10, 2020