Youth Employment Opportunities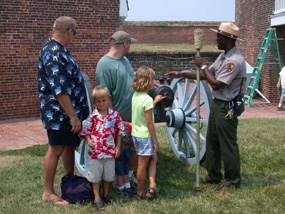 The National Park Service at Fort McHenry National Monument and Historic Shrine is looking for enthusiastic and energetic people who love history to be part of an elite team! Employment opportunities can be found in the following categories: Visitor Services, Maintenance and Cultural Resources. Each embodies the legacy of the National Park Service by preserving and protecting these precious places thereby providing visitors the opportunity to enjoy and appreciate them fully.
Visitor Services
If you like working with people, the field of Visitor Services is for you. Positions may involve giving guided programs to groups, greeting visitors in the Visitor Center, portraying a soldier or citizen from the War of 1812, collecting fees or undertaking historical research.
Maintenance
Maintenance safeguards the home of "The Star-Spangled Banner" by maintaining its pristine appearance, providing upkeep on buildings and undertaking preservation projects. This field is especially appealing to those who like working with their hands and working outside. Duties include grass-cutting, painting, carpentry, and light electrical work.
Cultural Resources
Members of the Cultural Resources team work at both Fort McHenry National Monument and Historic Shrine and Hampton NHS. For those interested in a job in the museum field and are skilled at detailed work, a position in Cultural Resources is a great start. Duties include cleaning museum exhibits, cataloging artifacts, and light gardening duties.
Vacancies at Fort McHenry NM&HS are announced on USAJOBS. Information about temporary Park Ranger, Visitor Use Assistant, Maintenance Worker, and positions in Cultural Resources are linked here and include rates of pay, general duties and supervisors to contact for Student Hire positions. For jobs with other national parks and other federal agencies, see USAJOBS.
Continuing Students applying for seasonal work may apply directly with the park. You will need the following: Application form OF-612, the declaration for Federal employment OF-306, an official copy of your transcripts and the STEP Pre-Employment Eligibility Form. Link here for the application forms through the office of Personnel Management.
The U.S. Office of Personnel Management and Department of Education's Student Financial Assistance office has announced a new web site designed just for high school and college students -- Studentjobs.gov. The site provides links to:
Federal job openings,
Information on the Government's hiring process,
Agency web links and student employment pages (for more than 50 agencies),
Articles that describe student job opportunities in Federal organizations, Answers to frequently asked questions, and
An email notification system for newly posted vacancies that meet a student's job-search profile.
The job search on Studentjobs.gov connects to USAJOBS and shows all jobs that have been identified as available to students. These include temporary, coop positions, internships, volunteer opportunities, and university work-study positions
Last updated: February 26, 2015