Nature & Science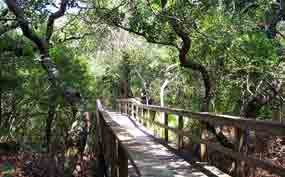 Nature at Fort Matanzas National Monument
The original national monument site consisted of only the fort on Rattlesnake Island. Through the years, however, the National Park Service has acquired additional land on both Rattlesnake and Anastasia Islands and has been able to preserve a slice of an intact barrier island ecosystem. The river and ocean beaches as well as the .6 mile nature trail offer visitors the opportunity to view a variety of plants and wildlife native to this ecosystem.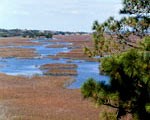 A Diverse Ecosystem
Fort Matanzas National Monument protects a variety of habitats for many different species of plants and animals. Click HERE to explore the different habitats and plant life of Fort Matanzas.
Natural Resource Management
The park's natural resource department is participating in several
studies and projects to find out more about the plants and animals
in the park and how best to protect and interpret them.

Click here to learn about the many Environmental Factors within the National Monument.
Upcoming Nature Programs at Fort Matanzas
Please contact the park for more information or click HERE for our upcoming events.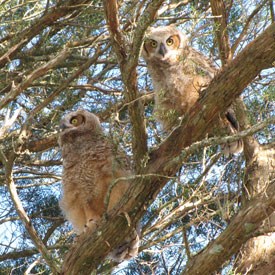 Great Horned Owls Call Fort Matanzas Their Home!
Click HERE for general information about the Birds of Fort Matanzas.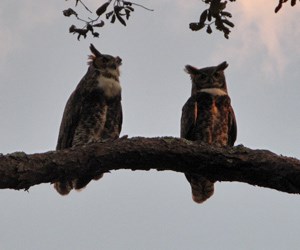 The Matanzas Great Horned Owls in Mating Mode, Nov. 26, 2011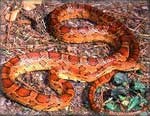 Snakes and Turtles and Frogs, Oh My!
During 1998 and 1999, Dr. F. Wayne King from the University of Florida conducted an extensive survey of the reptiles and amphibians found at Fort Matanzas National Monument. Click HERE for the results of his study complete with information on each species' ecology and habitat and photographs like this one of a red rat snake (corn snake), one of the beautiful, non-poisonous snakes at Fort Matanzas.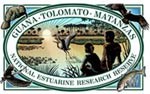 GTMNERR
The area around Fort Matanzas National Monument is also part of the Guana-Tolomato-Matanzas National Estuarine Research Reserve (GTMNERR), one of 25 such reserves in the United States. Designated in 1999, GTMNERR is a federal/state partnership administered by the Florida Department of Environmental Protection.


Click HERE to visit the GTMNERR website.
Last updated: March 25, 2019