The Coastal Scrub
The Coastal Scrub
Between the hammock and the dunes grow dense thickets of scrub live oak interspersed with thick stands of saw palmetto, bay and cedar, and an occasional sabal palm, all laced together by a tangle of grape and other vines. Prickly pear cactus grow in the more open, areas. Sandy and dry, scoured by harsh, salt-laden winds, the scrub is a harsh environment for animals, but a beautiful garden for wildflowers in the spring and summer.
Explore the scrub at Fort Matanzas National Monument. A boardwalk trail runs from the parking lot just north of the Matanzas Inlet through a dense scrub area and over the dunes to the ocean beach. Watch for gopher tortoises, eastern indigo and coachwhip snakes on the sand, and for harrier hawks hoving low above the vegetation.
As more and more scrub throughout Florida, both along the coast and in the interior, is lost to development, what will become of the gopher tortoise and indigo snake?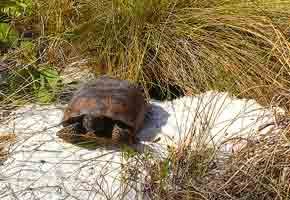 Gopher Tortoise (Gopherus polyphemus)
The Gopher Tortoise is one of the few creatures who makes its year-round home in this unforgiving landscape. To keep cool and to preserve moisture, the gopher tortoise digs branching burrows 30 feet into the dunes. A single tortoise might have two or more active burrows.
Over 80 other species of animals depend on abandoned or active burrows for homes, safety, and midday or bad weather refuge. Rattlesnakes, raccoons, gopher frogs, snakes, armadillos, lizards, skinks, and opossums are among those which exploit the tortoise's labor for their own shelter.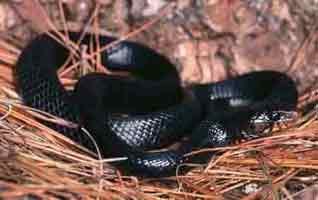 Eastern Indigo Snake (Drymarchon corais couperi)

The Eastern Indigo Snake is the largest snake in North America, averaging 6 feet (nearly 2 meters) in length. Its scales are a beautiful smooth, shiny, blue/black color. Federally listed as endangered, the snake lives in the scrub using the area for food and shelter. This gentle snake is nonpoisonous and has been over collected for the pet trade.
Last updated: September 19, 2016