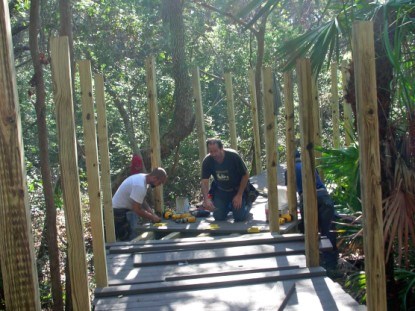 Enola Contracting Services Inc. and the park's maintenance team, led by Dan Matteson (Project Manager) are currently engaged in the replacement of a 1,600 foot long wooden trail at Fort Matanzas.
The trail is a popular feature at the park, attracting thousands of visitors each year to meander through North Florida's coastal forest made up of under-story shrubs such as paw paw, wax myrtle, yaupon holly and tall trees like the Magnolia, Red Bay, Palm, Oak, and Cedar trees - like the one that forced us to redesign the boardwalk.
It was the safety of these visitors that led the park to replace the boardwalk before it became too deteriorated. This $257,842 endeavor began October 29, 2007 and is estimated to be complete around the beginning of May 2008. The old wood is being replaced by Treated Southern Yellow Pine and TREX decking, which should sustain the elements for the next twenty years or more!
There will be no damage to the natural features around the trail because the replacement boardwalk will be placed directly where the old trail is located, and existing post holes will be reused.
Portions of the trail will be closed during construction. For any questions call (904) 471-0116.