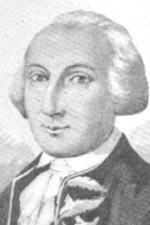 What historical ties does a Spanish governor of Louisiana have with British St. Augustine? What ties unite Pensacola, Florida; Mobile, Alabama; Baton Rouge, Louisiana; and Natchez, Mississippi? During the American Revolution, these towns, like St. Augustine, were all part of British Florida, and all but St. Augustine were captured by General Bernardo de Gálvez, the governor of Spanish Louisiana, and his Spanish armies. Does this come as a surprise? We hear a lot about Lafayette and the French aid to the American colonies, but few people know that Spain was involved as well. So, who was General Gálvez, and what role did the Spanish play in the American Revolution?
Bernardo Vicente Apolinar de Gálvez was born in 1746 in Málaga, Spain, the son of a career military man. Also choosing a military career, sixteen-year-old Bernardo participated in his first campaign against Portugal during the conflict known as the Seven Years' War in Europe and the French and Indian War in North America.
Over the next fourteen years, Gálvez gained further valuable military experience fighting the Apaches in New Spain (today's Mexico and southwestern US) and another posting in North Africa where he proved his valor when he refused to abandon a position about to be overrun by the enemy, even though he was badly wounded.
At age twenty-nine in 1776, Bernardo de Gálvez was appointed governor of Spanish Louisiana. (In 1762, nearing the end of the Seven Years' War, France ceded Louisiana to Spain in a secret treaty.) His mission, as top military and civilian authority of this land which stretched from the Mississippi River to the Rockies, from the Gulf of Mexico to Canada, was to deal fairly with the French Creole population, promote commerce, fight smuggling, cultivate friendship with the Indians, build up the population, and in case of war against Great Britain, he was expected to attack and take British West Florida, all with only 500 soldiers.
Gálvez Assists the American Colonies
When the American colonies began their revolt against Great Britain, both they and the British wanted something from Spain. The British wanted neutrality. The colonies wanted money, military supplies, and even military intervention. A sympathizer of the American cause, Gálvez tried to assist the colonies while appearing to remain neutral. In 1777 he sent $70,000 worth of goods (medicine, uniform fabric, weapons, cartridge boxes) up the Mississippi River to the Ohio to Pittsburgh, and on to Philadelphia.
In August 1779, Spain finally declared war on Great Britain and Gálvez was free to act openly. He knew that his best chance of success was to strike first by surprise. Within a month he had captured all four British forts in the lower Mississippi including Baton Rouge and Natchez. He captured 550 enemy soldiers and two naval vessels, one of which was captured from land. (At one point, the British ship had to pass through a narrow channel, and the Spanish jumped aboard.) He did this all without suffering a single defeat. His success was even more remarkable because a hurricane had sunk his supply ships.
The next March he moved against the seaport of Mobile. Again, his fleet wrecked at the mouth of the bay and most of his supplies were lost. However, Gálvez figured that since they were there, they might as well fight. When he learned that British reinforcements were coming from Pensacola, he pressed his siege, and Mobile surrendered in less than a day. The British reinforcements were so devastated by the news that they turned around in retreat