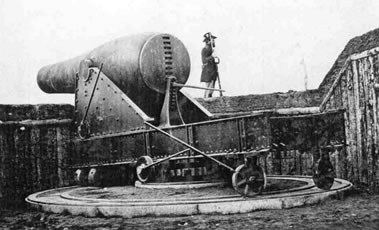 MAMMOTH GUNS
RODMAN'S SMOOTHBORE CANNONS
Fort Foote visitors are amazed by the massive size of the two large cannons overlooking the Potomac River. Commonly called Todman Guns, these cannons were officially known as the Model 1861 U.S. 15-inch Columbiad. To fully appreciate these weapons, we must look back to see how cannons were manufactured during our country's early history.
EARLY CANNON CASTING
All cannons were made by pouring molten metal around a solid cylinder to form a chamber for powder and shot. Exact alignment was difficult and the interior cavity was often miss-shaped. In 1712, the Swiss introduced solid casting, a manufacturing process that formed the cannon as one solid piece. Metal impurities, known as slag, was forced to the center by the cooling action and removed by a lathe during the finishing operation. The hollow area, now called the bore, was accurately shaped by drilling the solid cast process reached America by 1773 and became standard practice for all U.S. cannon foundries. when necessary, excess metal was removed from the exterior to insure that the bore was accurately centered.
After the American Revolution our government turned to iron as gun metal so that our military would not have to rely on foreign metals such as copper, nickel. In 1811 Major George Bombford of the U.S. Ordnance department introduced a 50-pounder iron gun called the Columbiad to replace the large variety of seacoast cannons then in the use. Gradually, as the thickness of ship armor increased larger guns were needed and more metal had to be removed from the exterior to reduce weight and decrease cost. The guest for more powerful guns resulted in less trustworthy ordnance. America's cast iron guns became notorious for their ability to burst so the field artillery went back to bronzer as their gunmetal.
NOTORIOUS PEACEMAKER
in 1844 the U.S. Navy decided to show off their newest acquisition, a steampowered, propeller-driven war ship with a 12-inch experimental gun. On February 28, President John Tyler, members of Congress, newspaper reporters and other guest boarded the USS Princeton at the Washington Navy Yard. The group enjoyed a leisure cruise down the Potomac while the Princeton demonstrated her maneuvering ability and armament. On the return trip the ship passed Fort Washington as Captain Robert F. Stockton prepared to fire one last round from he 12-inch, 225-pounder called "Peacemaker." When fired, the gun burst wounding many guests and killed five observers including Navy Secretary Gilmer, Secretary of State Upshur and a Congressman. A Board of Inquiry found that no person could be held responsible for the mishap but they did find fault with the gun. They also concluded that the present technology could not produce a safe large gun. Large gun manufacturing process had no effect on the strength of a gun and blamed gun failures on thin barrel design. He developed a bottle-shaped cannon with a thick breech to absorb the extreme pressure created by large powder charges.