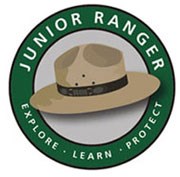 Fort Dupont Park offers many programs just for kids. Once a child has completed a certain number of activities through our Jr. Ranger book they are awarded with an official Jr. Ranger badge and certificate.
Each park in National Capital Parks-East has a different Jr. Ranger program and a child may take part in each one. This means that they can become official Jr. Rangers at several different parks, earning a badge and certificate at each park.
If transportation is problematic then your child can earn his or her Jr. Ranger badge and certificate by becoming a WebRanger.