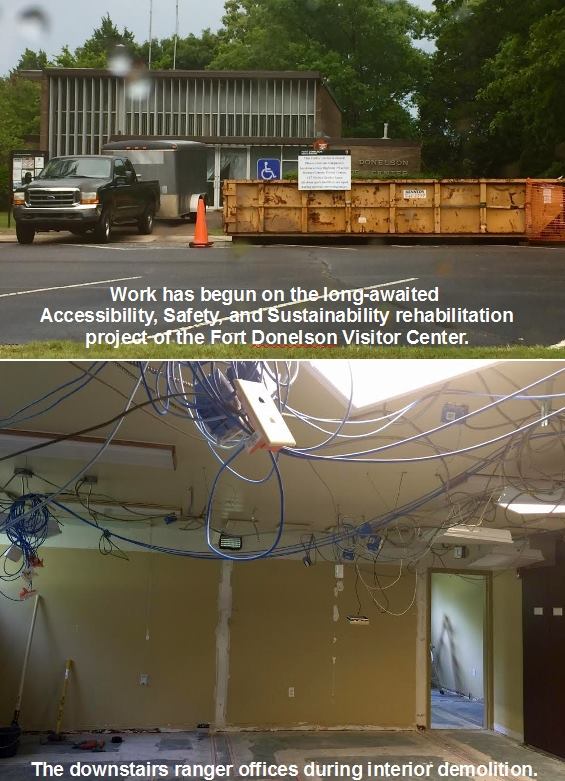 Excitement is in the air at Fort Donelson NB!
After two years of planning and design, site work has begun on the park's vital Accessibility, Safety, and Sustainability rehabilitation project.
When complete, for the first time the 1962 building will be accessible to all, meeting ABA/ADA accessibility standards with an elevator addition, accessible doors, compliant restrooms, and the ability to move freely to all three floors without the fear of finding one self stranded on anoften failing, stair-mounted chair lift.
In addition, safety features will be installed - including the building's first ever fire suppression system, emergency egress from both the theater and museum levels, and numerous other safety configurations. Asbestos in effected areas will also be removed
The third component of the project, sustainability, will provide the visitor center with a new, non-leaking, and heavily insulated roofing structure. A zoned super-high efficiency HVAC system will aid in making the operation more sustainable and environmentally friendly.
The Fort Donelson Visitor Center was constructed as part of a nation-wide series of infrastructural improvement by the National Park System (NPS) during the late 1950's/early 1960's in conjunction with the then approaching 50th anniversary of the agency.
Though long overdue, the current project is reminiscent of the Mission 66 era - bringing the visitor experience up to the current and future generations. Current improvements are in conjunction with the Centennial year (1916-2016) of the NPS.
As shared by Superintendent Brian McCutchen, "This Centennial legacy project will bring this historic visitor center fully up to the accessibility, safety, and sustainability expectations of the 21st century national park visitor; and for generations to come."
During the closure of the park facility, visitors are encouraged to drop in and obtain tour information, view the park film, and chat with the national park's rangers at the Stewart County Visitor Center, located at 117 Visitors Center Drive, Dover, Tennessee 37058