Special Events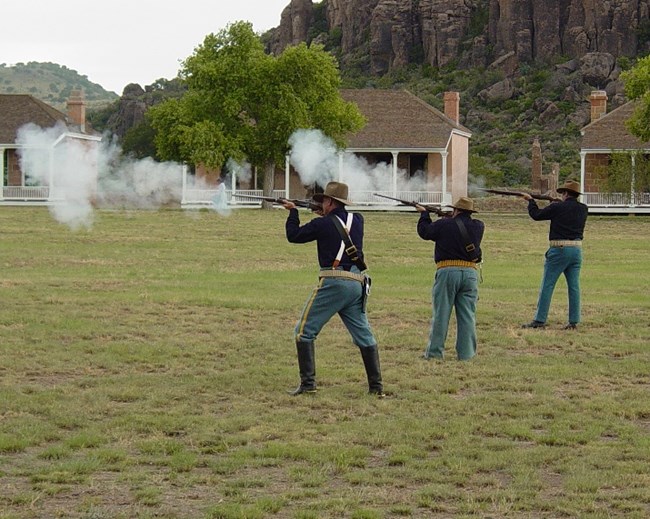 Living History Small Arms Demo.

Fee Free Days 2016:
January 18:Martin Luther King Jr. Day
April 16 through 24:National Park Week
August 25 through 28:National Park Service Birthday
September 24:National Public Lands Day
November 11:Veterans Day
PARK CLOSED: Thanksgiving Day, Christmas Day, New Year's Day, and Martin Luther King Jr. Day

Events 2016
-Friday March 4th Texas History Day at the Annie Riggs Memorial Museum, Fort Stockton TX
-March 6-19th Spring Break Activities Daily programs at 10:30 & 2:30 plus a Flag Lowering Ceremony at 4:30PM.
-March 11 & 12th Texas Camel Corps. at the Fort!! www.texascamelcorps.com
-March 13th 5K Fun Run "Cannon Ball Run" (free event, all participants get a one of a kind Fort Centennial Patch, our cannon will be the starting "gun" More Information!
-April 22-24 Fair Park Dallas, TX Volunteers from Fort Davis will be a part of Earth Day Texas http://earthdaytx.org/
-Summer Junior Ranger Days to be announced.
-Davis Mountains State Park - Saturday Evening Programs! [June 11th - August 13th] 7:00PM every Saturday. One hour programs at the DMSP Amphitheater.
-Independence Day Weekend Activities! We will march in the town parade in full period dress and have lots of living history participants at the fort.
-December our furnished historic buildings will be decorated for the holiday season!
Check back for more!
Last updated: April 9, 2016