Safety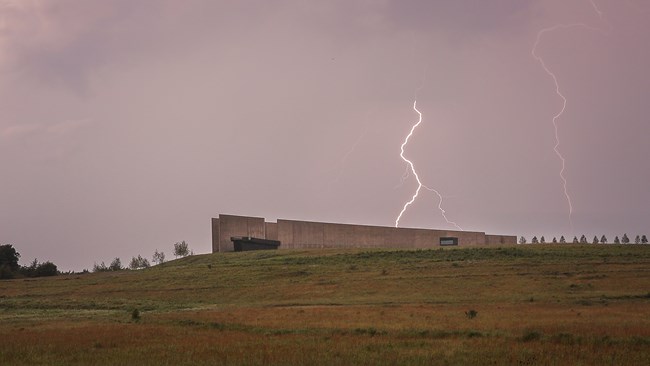 Weather
Always check the weather forecast before you visit and be prepared for changing conditions.
Sun protection. Sunglasses, sunscreen and a hat are essentials when spending extended time outdoors.
Extra clothing layers (rain jacket, fleece, etc.). Tempatures can change drastically so be prepared for anything. Dressing in layers can help keep you comfortable.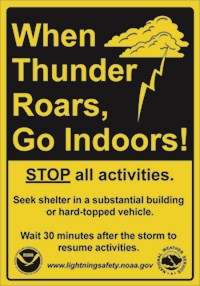 Lightning
It is important to be cautious during thunderstorms.
If you can hear thunder, you are close enough to be struck by lightning.
Lightning can strike up to ten miles away.
At the first sound of thunder seek shelter immediately.
Stay in a safe shelter for at least 30 minutes after you hear the last sound of thunder.
Water and Food
Water and light snacks are available for sale at the Visitor Center.
Be sure to bring enough food or drinks you might need for your visit.
Slips, Trips, & Falls

Slips, trips and falls can happen at any time, but observing thefollowing guidelines can minimize the likelihood of serious injury.
Watch your step and be prepared to turn around in dangerous settings such as wet and slippery conditions or ice.
Be sure to stay on park maintained trails.
Take note of any uneven surfaces.
Notify any park service personel if you notice any possible hazards. (814) 893-6561
Ticks
While visiting Flight 93 National Memorial please stay on all marked paths and trails.
Wearing of long pants and shirts limit possibly of tick bites. Use an appropriate insect repellent containing DEET.
Check both yourself and your pets for ticks. If a tick is found, use a fine tipped tweezer, and grasp the tick as close to your skin as possible. Pull tick steadily out with even pressure.
Last updated: September 26, 2022