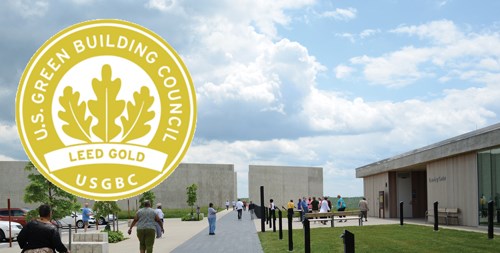 Visitor Center Complex
LEED Rating System: New Construction
LEED Rating Version: NC v2009
Completed: September 2015
Certification Level: Gold

Project Highlights
378,248 square feet of open space has been provided which is more than the footprint of the LEED-NC building (10,070). Additionally, 100% of this is dedicated open space is vegetated.

49.31% energy cost savings. A minimum energy cost savings of 12% is required for all new construction projects.

53% reduction in the potable water usage from a calculated baseline design.


35.64% of the total building materials value includes materials and products that have been manufactured and extracted within 500 miles of the project site.

21.22% of the total building materials content, by value, has been manufactured using recycled materials.
Explore the full LEED Scorecard for the Visitor Center Complex