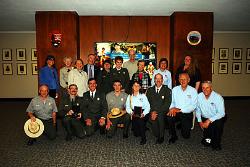 Flight 93 National Memorial Volunteers Win National Award The Flight 93 Volunteer Ambassador Program received the National Park Services highest volunteer honor for 2007. Read more.
Volunteer Opportunities

Volunteer Parking Aide NEW OPPORTUNITY
Activities The memorial has high visitation in the Spring, Summer, and Fall. At times overflow parking lots are activated to handle the large number of vehicles. Parking Aides help the ranger staff to manage the parking areas. Parking aides provide a valuable service to visitors and are important members of the visitor services team. This position is outdoors and does involve standing and walking for long periods of time. Assistance is needed on weekends and during special events. The memorial provides training and equipment.

Volunteer Interpreter
Activities This position is outdoors providing visitor information, orientation and both formal and informal interpretive presentations for visitors to the site. Requires Park provided training on an ongoing basis in addition to research and education. Good communications skills necessary. Training provided.
Visitor Services
Activities This position is outdoors serving as a point of contact for distributing information to visitors. Supports volunteer interpreters by answering basic questions, distributing maps, providing directions and helping visitors with additional needs. Volunteer assists with visitor counts and by making Park resources available to the general public. Good communication skills are a plus. Training is provided.
Oral History Transcriber
Activities This position is indoors listening to audio interviews and typing spoken word to written text. Other opportunities may include editing, audio formatting and labeling based on available work. Interviews may be of a sensitive nature and may require discretion and confidentiality. Typing skills are necessary.
Historic Preservation/Museum Collections
Activities This position is primarily indoors with light outdoor work on occasion. Opportunities include cleaning tribute objects in collections, organizing materials, labeling objects, assisting with photography and preparing objects for proper museum storage.
Click here to e-mail the Flight 93 Volunteer Coordinator for more information.
You may also call the Flight 93 National Memorial office at 814.893.6322 for more information and ask for the Volunteer Coordinator.
For additional volunteer opportunities with the National Park Service, visit www.nps.gov/volunteer.