Find a Park by State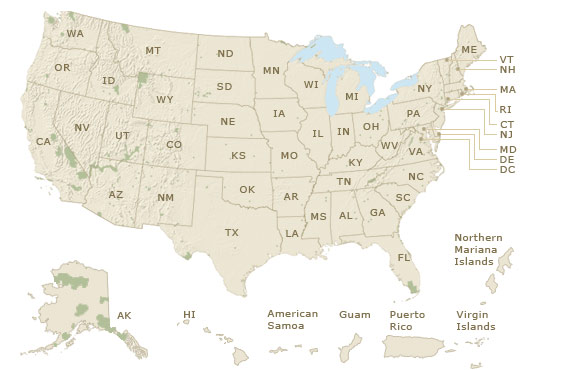 WWII Valor in the Pacific NM
After the surprising and devastating attack on Pearl Harbor on December 7, 1941, the country officially entered World War II.
Home of Franklin D Roosevelt NHS
Walk through the home of a four-term president, who led the nation through the Great Depression and into the second world war.
Rosie the Riveter WWII Home Front NHP
Explore the efforts and sacrifices on the home front as Americans mobilized in support of the war efforts.
Statue of Liberty National Monument
Witness majestic views from the crown of one of the tallest statues in the world, which stands tall and proud at 151 feet.
Rocky Mountain National Park
Enjoy scenic views of the great outdoors on the highest paved road in the U.S. without having to step out of a car.
Jefferson National Expansion Memorial
Learn the history behind the world's tallest arch and nation's tallest man-made monument that brought the U.S. to new heights and horizons.
Getaway to Hopewell Culture NHP
Travel to the gently rolling hills of Ohio to discover the Hopewell tradition preserved in large prehistoric earthen mounds.
Wupatki National Monument
In the Painted Desert of northern Arizona, explore the ruins of ancient pueblos where communities once thrived.
Friendship Hill National Historic Site
In the rolling hills of western Pennsylvania, step back into the early days of the nation's history at the home of Albert Gallatin.
National Mall & Memorial Parks
Walk through a unique park In the heart of the nation's capital that binds together our nation's history.