Find a Park by State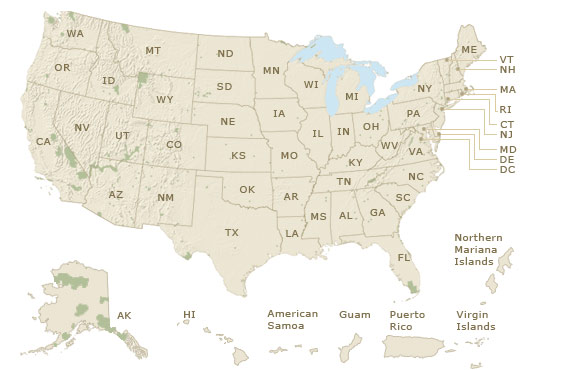 War in the Pacific NHP
Battlefields, gun emplacements, trenches, and historic structures all serve as silent reminders of honor, courage, and sacrifice.
World War II Memorial
In the heart of the nation's capital, the memorial honors the wartime service of those in the Armed Forces and on the home front.
Port Chicago Naval Magazine NM
Site of a tragic accident, the monument is a reminder of the home front contributions and sacrifice in support of the war efforts.
Haleakalā National Park
With a volcanic peak above the clouds, the dramatic landscape is home to endangered species, some of which exist nowhere else
Olympic National Park
The glacier-capped mountains of Olympic are a place for adventure and part of a vast wilderness.
Shenandoah National Park
The Shenandoah Mountains protect cascading waterfalls, deer, songbirds, and the night sky within 75 miles of the bustling capital city.
Rocky Mountain National Park
All year round, the park provides recreational opportunities to enjoy the beauty of the Rocky Mountains.
Guadalupe Mountains National Park
Walk through the remnants of a giant fossilized Permian reef, which formed the Guadalupe Mountains.
Getaway to Ocmulgee NM
In the heart of Georgia lies a place that encompasses more than 17,000 years of human history.
Christiansted National Historic Site
Walk through history and learn more about the rich blend of cultures in the Virgin Islands at this historic site.
Chamizal National Memorial
Celebrate U.S. and Mexican heritage at this memorial dedicated to international friendship on the Texas-Mexico border.
Theodore Roosevelt Island
A hidden oasis of nature in the nation's capital, Theodore Roosevelt Island is a living memorial to the 26th president.