Find a Park by State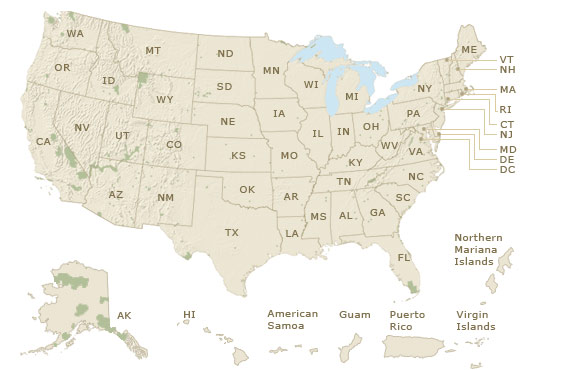 Adams NHP
This little farm in Massachusetts was once home to two early US presidents: John Adams and John Quincy Adams.
Andrew Johnson NHS
President while the nation was coming back together after a devastating civil war, Johnson's legacy is preserved in his hometown.
John Fitzgerald Kennedy NHS
The Kennedy's home in Massachusetts provides a peek into the childhood and family influences of the 35th president.
African American Trailblazers for Civil Rights
Reconstruction Era NM
Historic sites in rural South Carolina tell the story of newly freed African Americans rebuilding their lives during the Reconstruction Era.
Birmingham Civil Rights NM
Dramatic images and events in Birmingham, Alabama, shook the world and shaped the Civil Rights Movement.
Freedom Riders NM
Track the journey of the "Freedom Riders," a small interracial band that challenged segregation laws in 1961.
Innovators Changing the World
George Washington Carver NM
Born into slavery, Carver overcame hardships to become a renowned agricultural innovator and promoted education for African American men.
Thomas Edison National Historical Park
Edison's home and laboratory was the birthplace of numerous inventions and technological advancements that changed the world.
Wright Brothers National Memorial
On sandy dunes in North Carolina, the Wright brothers achieved the first successful airplane flight in 1903, revolutionizing air travel.
Getaway to New Orleans Jazz NHP
Experience the sounds of jazz in the city where it all began at this unique park dedicated sharing our nation's musical heritage.
Hovenweep National Monument
Walk in the footsteps of the ancestral Pueblo people of Utah and Colorado, while also discovering the vast night sky and desert wildlife.
Ocmulgee National Monument
In the heart of Georgia lies a place that encompasses more than 17,000 years of human history.
Christiansted National Historic Site
Walk through history and learn more about the rich blend of cultures in the Virgin Islands at this historic site.