Find a Park by State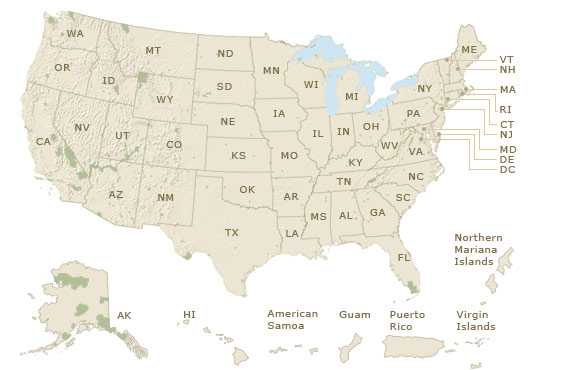 Sleeping Bear Dunes National Lakeshore
Bring your camera and capture the stars over the Great Lakes where a stunning natural light show brightens the night sky.
Shenandoah National Park
Join night sky festivals and star parties, or just find a quiet place to stargaze in the Shenandoah Mountains.
Glacier National Park
In partnership with is sister park Waterton Lakes National Park in Canada, Glacier strives keeps light pollution to a minimum.
Dayton Aviation Heritage NHP
From their shops and nearby fields in Ohio, the Wright brother's tinkered with ideas leading to the first successful airplane flight.
Fort Vancouver NHS
In 1937, a crowd gathered in the fields near the historic fort to witness the world's first transpolar flight complete its journey.
Tuskegee Airmen NHS
The first African American military pilots and support staff paved the way for desegregation of military aviation programs.
This Month's National Park Getaway
Lyndon Baines Johnson Memorial Grove on the Potomac is a "living" presidential memorial in the nation's capital.
Adams National Historical Park
Meet four generations of an influential political family that helped guide a young nation at Adams National Historical Park.
Wind Cave National Park
Explore an exciting world above and below ground at a "two-in-one" park in the Black Hills of South Dakota.
Washita Battlefield NHS
Once a somber place of remembrance, these fields in Oklahoma have become a place where communities can come together.