Find a Park by State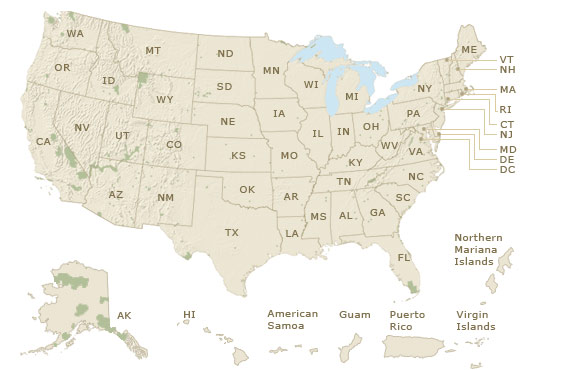 Tracing the Path of Theodore Roosevelt
Theodore Roosevelt Birthplace NHS
Born on October 27, 1858 in a New York City townhouse, Roosevelt would become influential in setting aside land for future generations.
Theodore Roosevelt National Park
The spectacular landscape of the North Dakota badlands where Roosevelt settled as a young man influenced his future conversation policies.
Theodore Roosevelt Inaugural NHS
Following the untimely death of President William McKinley, Roosevelt was sworn in as the 26th president of the United States.
Guadalupe Mountains National Park
In the heart of the Chihuahuan Desert is a stunning display of fall foliage decorating the Guadalupe Mountains.
Appalachian National Scenic Trail
Passing through 13 states over a distance of more than 2,180 miles, the trail offers many opportunities to watch the season change.
Niobrara National Scenic River
Kick back and relax on the Niobrara River to enjoy colorful leaf displays, waterfalls, and rock outcroppings.
Piecing Together Our Past
Fort Vancouver National Historic Site
Get your hands dirty helping with archaeology projects that look for clues about past life in the Pacific Northwest.
Dry Tortugas National Park
Explore the underwater archaeology in the Gulf of Mexico, including shipwrecks and other historic artifacts.
Poverty Point National Monument
Walk through the remnants of a culture that was part a trading network that stretched across the continent 3,000 years ago.
Getaway to Christiansted NHS
Walk through history and learn more about the rich blend of cultures in the Virgin Islands at this historic site.
Chamizal National Memorial
Celebrate U.S. and Mexican heritage at this memorial dedicated to international friendship on the Texas-Mexico border.
Theodore Roosevelt Island
A hidden oasis of nature in the nation's capital, Theodore Roosevelt Island is a living memorial to the 26th president.
Niobrara National Scenic River
Among the golden prairie of Nebraska flows a scenic river perfect for adventure-seekers or relaxation.