Find a Park by State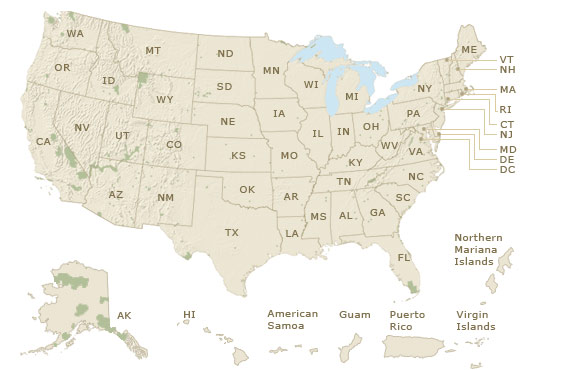 Charles Pinckney NHS
Visit the South Carolina Lowcountry to learn about Charles Pinckney, a principle author and signer of the U.S. Constitution.
Independence Hall NHP
Walk through the rooms where the Founding Fathers reconvened to debate, draft, and sign the U.S. Constitution in 1787.
First State National Historical Park
Known as the first state to ratify the Constitution, explore Delaware's historical past of tolerance of diversity and value of independence.
Lake Clark National Park & Preserve
The mountains, lakes, and valleys of the Alaskan wilderness are home to a variety of plants and animals.
Mojave National Preserve
Singing sand dunes, volcanic cinder cones, Joshua tree forests, and carpets of wildflowers decorate canyons, mountains, and mesas.
Black Canyon of the Gunnison NP
Home to the steepest cliffs, oldest rock, and craggiest spires in the country, the park offers exciting opportunities for adventurers.
Getaway: National Mall & Memorial Parks
Walk through a unique park In the heart of the nation's capital that binds together our nation's history.
Kobuk Valley National Park
Venture to the Alaskan wilderness to discover a largely unaltered landscape teeming with wildlife, stunning scenery, and resilient locals.
César E. Chávez National Monument
Journey to the California Sierra Nevada to learn about the life and legacy of a prominent 20th-century advocate for American farmworkers.
Valles Caldera National Preserve
Explore the stunning landscape and human history centered around a dormant supervolcano in the "the Land of Enchantment."