Find a Park by State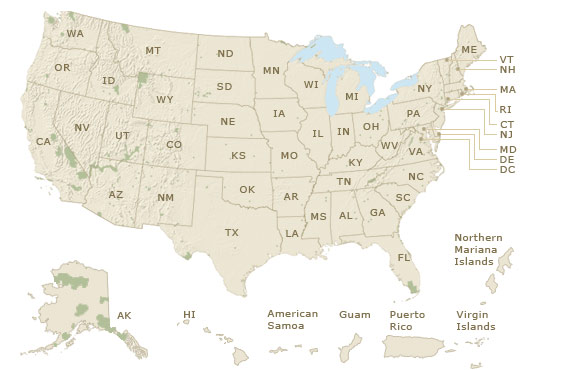 Lowell NHP
Weaving looms and other machines are reminders of the women factory workers that helped propel the nation through the Industrial Revolution.
Clara Barton NHS
Barton's home served as the national headquarters for the American Red Cross, providing organized emergency services to national disasters.
Eleanor Roosevelt NHS
The longest-serving First Lady, Roosevelt was very active in helping her husband lead the nation through a depression and world war.
Edgar Allan Poe NHS
Step into the Philadelphia home of one of the most influential American authors and poets of the 19th century.
Carl Sandburg NHS
The popular 20th-century poet captured the voice of the American people from his farm in rural North Carolina.
Eugene O'Neill NHS
At the height of his career, this Nobel Prize-winning playwright chose to write from a fairly isolated home in California.
Innovators Changing the World
George Washington Carver NM
Born into slavery, Carver overcame hardships to become a renowned agricultural innovator and promoted education for African American men.
Thomas Edison National Historical Park
Edison's home and laboratory was the birthplace of numerous inventions and technological advancements that changed the world.
Wright Brothers National Memorial
On sandy dunes in North Carolina, the Wright brothers achieved the first successful airplane flight in 1903, revolutionizing air travel.
Getaway to Bandelier National Monument
Abounding with wildlife today, explore the rugged canyons and mesas that were once home to the Ancestral Pueblo people of New Mexico.
New Orleans Jazz NHP
Experience the sounds of jazz in the city where it all began at this unique park dedicated sharing our nation's musical heritage.
Hovenweep National Monument
Walk in the footsteps of the ancestral Pueblo people of Utah and Colorado, while also discovering the vast night sky and desert wildlife.
Ocmulgee National Monument
In the heart of Georgia lies a place that encompasses more than 17,000 years of human history.