Find a Park by State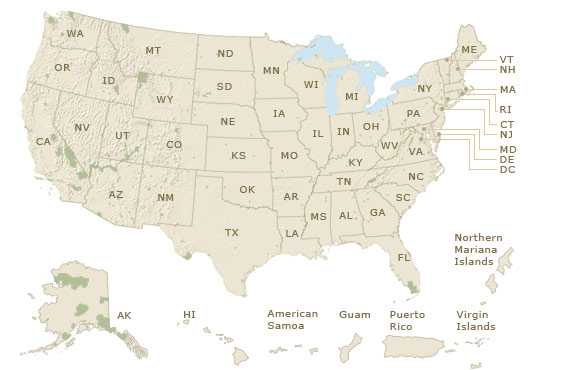 Touro Synagogue NHS
Built in 1763 in pursuit of religious tolerance, this synagogue still stands today as a symbol of religious freedom for all Americans.
Ala Kahakai National Historic Trail
This trail system was built when a community of landowners, direct descendants, and government officials united around a shared vision.
Manzanar National Historic Site
One of ten camps used to detain Japanese America citizens during WWII, this site tells the story of forced removal and incarceration.
Golden Spike NHS
When the "last spike" was driven into the ground, the Transcontinental Railroad was complete and westward settlement was forever changed.
Steamtown National Historic Site
Home to locomotives, freight trains, and passenger cars, this collection represents an important era in our industrial history.
Cuyahoga Valley National Park
Originally started to transport coal, this rail line has been in operation for over 100 years and passes straight through a national park.
This Month's National Park Getaway
Once a somber place of remembrance, Washita Battlefield National Historic Site has become a place where communities can come together.
Waco Mammoth National Monument
Open a door into the Ice Age and learn about prehistoric life preserved in a paleontological site in Texas.
Hopewell Culture NHP
Travel to the gently rolling hills of Ohio to discover the Hopewell tradition preserved in large prehistoric earthen mounds.
Wupatki National Monument
In the Painted Desert of northern Arizona, explore the ruins of ancient pueblos where communities once thrived.