Find a Park by State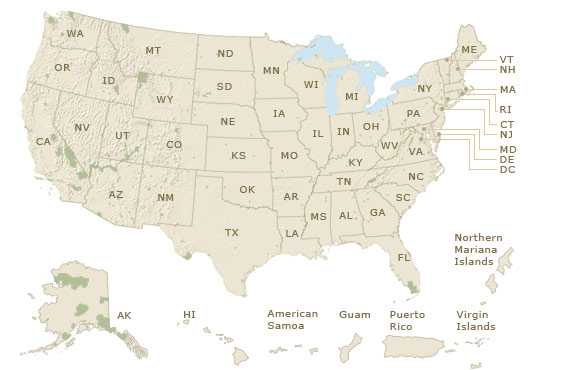 Independence Hall NHP
Walk through the rooms where the Founding Fathers reconvened to debate, draft, and sign the U.S. Constitution in 1787.
First State National Historical Park
Visit the first state that ratified the Constitution to learn about Delaware's historical views and values of independence.
National Mall & Memorial Parks
Among the monuments of D.C., the George Mason Memorial commemorates Mason's influence in establishing the Bill of Rights.
Ice Age National Scenic Trail
Explore a landscape of lakes, valleys, and gently rolling hills defined by an ice age 15,000 years ago.
North Country National Scenic Trail
Cross through seven northern states along the Great Lakes to enjoy the changing scenery that varies with the seasons.
Ala Kahakai National Historic Trail
Traverse the island of Hawaii to experience natural wonders and traditional Native Hawaiian culture.
Bluestone National Scenic River
Running through a rugged, ancient gorge, the river offers views of Appalachian plants, animals, and landscapes.
Saint Croix National Scenic Riverway
More than 200 miles of river gives paddlers, fishers, and campers a chance to enjoy the scenery of the great outdoors.
Lower Delaware Nat. Wild & Scenic River
Past forests, farmlands, and villages, the free-flowering river runs through some of the most densely populated regions in America.
This Month's National Park Getaway
A rocky sentinel at Devils Tower National Monument has stood watch over the Black Hills in Wyoming for millions of years.
LBJ Memorial Grove on the Potomac
Across the river from the classical stone monuments in downtown DC is a "living" memorial dedicated to the 36th US president.
Adams National Historical Park
Meet four generations of an influential political family that helped guide a young nation at Adams National Historical Park.
Wind Cave National Park
Explore an exciting world above and below ground at a "two-in-one" park in the Black Hills of South Dakota.