Find a Park by State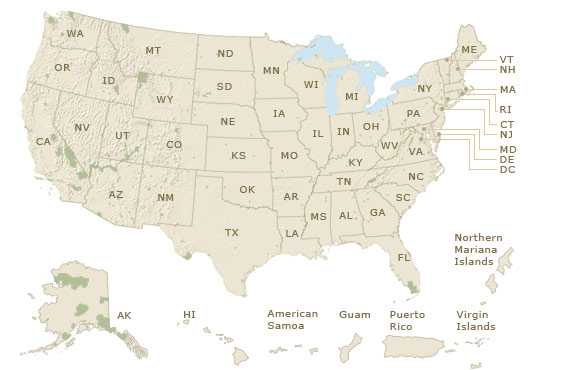 Capulin Volcano NM
See the night sky that once set travelers on their paths, following the direction of the stars, sun, and moon.
Obed Wild and Scenic River
As the sun sets over the Obed River, stay at the park late to listen for its nocturnal inhabitants.
Dinosaur National Monument
Discover the stories of the plants and animals that lived under these star-filled skies millions of years ago.
New River Gorge NR
This wildflower-enthusiast's dream is home to over 1,400 different species of plants.
Pinnacles National Park
Pack your field guide and plan a visit to this park anytime between March and May, when up to 80 percent of wildflowers are in peak bloom.
Gateway Arch NP
See the Gateway Arch in a new light as its surrounding trees come into bloom.
This Month's National Park Getaway
When the sun goes down at Natural Bridges National Monument, darkness fills the canyon and the night sky comes to life.
Waco Mammoth National Monument
Open a door into the Ice Age and learn about prehistoric life preserved in a paleontological site in Texas.
Hopewell Culture NHP
Travel to the gently rolling hills of Ohio to discover the Hopewell tradition preserved in large prehistoric earthen mounds.
Wupatki National Monument
In the Painted Desert of northern Arizona, explore the ruins of ancient pueblos where communities once thrived.