Find a Park by State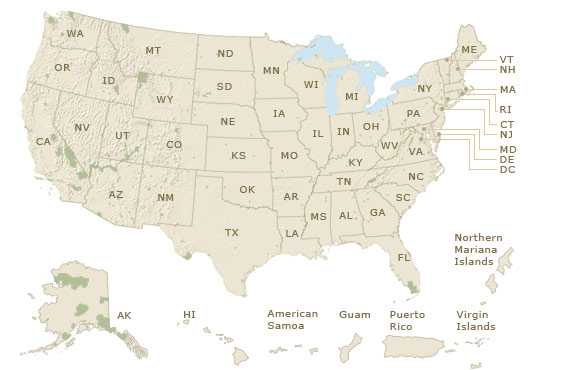 Poets, Painters, and Playwrights
Longfellow House
Longfellow House-Washington Headquarters National Historic Site was home to one of the most preeminent poets of the 19th century.
Weir Farm National Historic Site
A small farm in Connecticut because home to three generations of artists starting with popular impressionist Julian Alden Weir.
Eugene O'Neill NHS
At the height of his career, this Nobel Prize-winning playwright chose to write from a fairly isolated home in California.
Trail of Tears National Historic Trail
The trail follows several paths thousands of Cherokee took westward as they were forced to move from their lands in the east.
California National Historic Trail
More than 250,000 emigrants traveled 5,000 miles west in the 1840s and 1850s in search of gold or rich farmland.
Mormon Pioneer National Historic Trail
In 1846, several thousand members of the Church of Jesus Christ of Latter-day Saints trekked 1,500 miles west to make their own settlement.
A Wild & Scenic River Flows through Them
Delaware Water Gap NRA
The Delaware River, which has three branches part of the Wild & Scenic Rivers System, cuts through the Appalachian Mountains.
Aniakchak National Monument & Preserve
The Aniakchak Wild River flows through calderas in the Alaskan wilderness in an area known as the "Ring of Fire."
Glacier National Park
The Flathead River establishes part of the boundary of the park and provides recreational access to the Montana wilderness.
This Month's National Park Getaway
Stretching 2,200 miles across 14 states, the Appalachian National Scenic Trail draws thousands of hikers each year.
Devils Tower National Monument
A rocky sentinel at Devils Tower National Monument has stood watch over the Black Hills in Wyoming for millions of years.
LBJ Memorial Grove on the Potomac
Across the river from the classical stone monuments in downtown DC is a "living" memorial dedicated to the 36th US president.
Adams National Historical Park
Meet four generations of an influential political family that helped guide a young nation at Adams National Historical Park.