Find a Park by State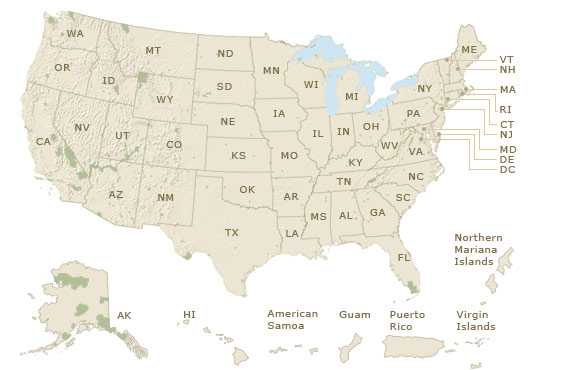 Celebrating Caribbean American Heritage
Salt River Bay NHP & Ecological Preserve
Remnants of Caribbean cultures are preserved in archaeological sites along the Salt River Bay on Saint Croix Island.
San Juan National Historic Site
More than 500 years of history, architecture, and merging of cultures in Puerto Rico are reflected in this park.
Christiansted National Historic Site
Walk through history and learn more about the rich blend of cultures in the Virgin Islands at this historic site.
Biscayne National Park
The beaches and underwater world off the coast of Florida provide endless opportunities of play in the ocean.
San Francisco Maritime NHP
Discover how the ocean and maritime heritage shaped the culture of past and present in coastal California.
Glacier Bay National Park & Preserve
Glacier Bay is a living laboratory with ongoing research and study by scientists on a wide range of ocean-related issues.
Fort McHenry NM and Historic Shrine
During the War of 1812, the fort's flag weathered the Battle of Baltimore and would become the inspiration for the national anthem.
Fort Sumter National Monument
The flags over Fort Sumter tell the complicated history of our nation struggling to survive through a civil war.
George Washington Memorial Parkway
The Marine Corps Memorial captures a moment of a flag-raising on Iwo Jima that brought hope to the home front during World War II.
This Month's National Park Getaway
Explore an exciting world above and below ground at Wind Cave National Park in the Black Hills of South Dakota.
Washita Battlefield NHS
Once a somber place of remembrance, these fields in Oklahoma have become a place where communities can come together.
Natural Bridges National Monument
When the sun goes down at Natural Bridges National Monument, darkness fills the canyon and the night sky comes to life.
Belmont-Paul Women's Equality NM
In the shadow of the U.S. Capitol and Supreme Court, this home and headquarters captures the struggle for women's suffrage and rights.