Find a Park by State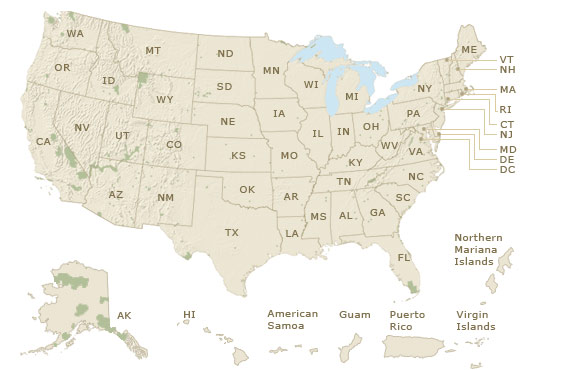 Navajo National Monument
Visit the homes of the Ancestral Puebloans who paved the way for current Native American groups in the Southwest.
Timucuan Ecological & Historic Preserve
The coastal wetlands of the lower Southeast have been home to numerous peoples, including the Timacuan, over the last 6,000 years.
Nez Perce National Historical Park
Explore the mountains, valleys, and plateaus of the inland Northwest that were home to the Nimiipuu or Nez Perce people.
Statue of Liberty National Monument
Witness majestic views from the crown of one of the tallest statues in the world, which stands tall and proud at 151 feet.
Rocky Mountain National Park
Enjoy scenic views of the great outdoors on the highest paved road in the U.S. without having to step out of a car.
Jefferson National Expansion Memorial
Learn the history behind the world's tallest arch and nation's tallest man-made monument that brought the U.S. to new heights and horizons.
Getaway to Wupatki National Monument
In the Painted Desert of northern Arizona, explore the ruins of ancient pueblos where communities once thrived.
Friendship Hill National Historic Site
In the rolling hills of western Pennsylvania, step back into the early days of the nation's history at the home of Albert Gallatin.
National Mall & Memorial Parks
Walk through a unique park In the heart of the nation's capital that binds together our nation's history.
Kobuk Valley National Park
Venture to the Alaskan wilderness to discover a largely unaltered landscape teeming with wildlife, stunning scenery, and resilient locals.