Find a Park by State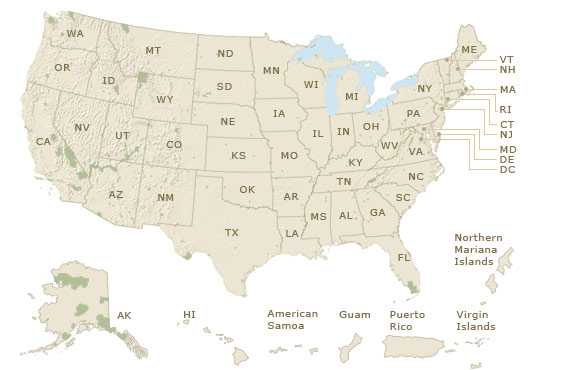 Manzanar National Historic Site
Detained at age 19, Sue Kunitomi Embrey dedicated her life to ensuring that the story of Japanese internment would always be told.
National Mall and Memorial Parks
Following years of service, Diane Carlson Evans would go on to lead the effort to create a place that honors all women of the Vietnam War.
Joshua Tree National Park
After suffering great loss, Minerva Hamilton Hoyt found solace in this desert ecosystem and began to lobby for its preservation.
Overmountain Victory NHT
Immerse yourself in history as you follow the route of the Overmountain Men on their path to the 1780 battle of Kings Mountain.
Big Bend National Park
Explore hundreds of miles of roads, both paved and dirt, passing old settlements, geological formations, and panoramic vistas.
Delaware Water Gap NRA
Travel back in time on the mid-1600s Old Mine Road that once connected mine workers and farmers to the city of Philadelphia.
This Month's National Park Getaway
Discover the story of the struggle for women's rights at Belmont-Paul Women's Equality National Monument.
Waco Mammoth National Monument
Open a door into the Ice Age and learn about prehistoric life preserved in a paleontological site in Texas.
Hopewell Culture NHP
Travel to the gently rolling hills of Ohio to discover the Hopewell tradition preserved in large prehistoric earthen mounds.
Wupatki National Monument
In the Painted Desert of northern Arizona, explore the ruins of ancient pueblos where communities once thrived.