Find a Park by State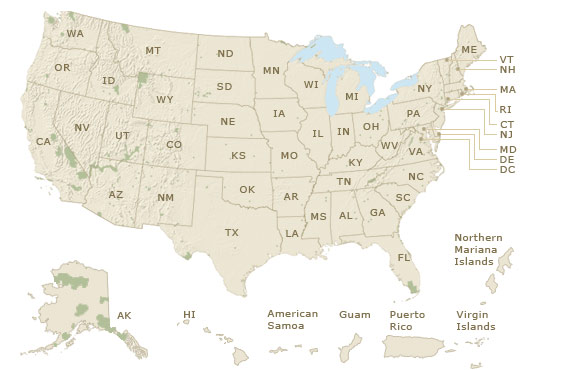 Guadalupe Mountains National Park
Walk through the remnants of a giant fossilized Permian reef, which formed the Guadalupe Mountains.
Hagerman Fossil Beds National Monument
Hidden in the hills of Idaho are the fossils of more than 200 prehistoric species, including the Hagerman horse.
Waco Mammoth National Monument
Step inside to see this paleontological site preserving fossilized remains of animals that lived approximately 67,000 years ago.
Edgar Allan Poe NHS
Step into the Philadelphia home of one of the most influential American authors and poets of the 19th century.
Longfellow House
Longfellow House-Washington Headquarters National Historic Site was home to one of the most preeminent poets of the 19th century.
Carl Sandburg NHS
The popular 20th-century poet captured the voice of the American people from his farm in rural North Carolina.
Getaway to Friendship Hill NHS
In the rolling hills of western Pennsylvania, step back into the early days of the nation's history at the home of Albert Gallatin.
National Mall & Memorial Parks
Walk through a unique park In the heart of the nation's capital that binds together our nation's history.
Kobuk Valley National Park
Venture to the Alaskan wilderness to discover a largely unaltered landscape teeming with wildlife, stunning scenery, and resilient locals.
César E. Chávez National Monument
Journey to the California Sierra Nevada to learn about the life and legacy of a prominent 20th-century advocate for American farmworkers.