Find a Park by State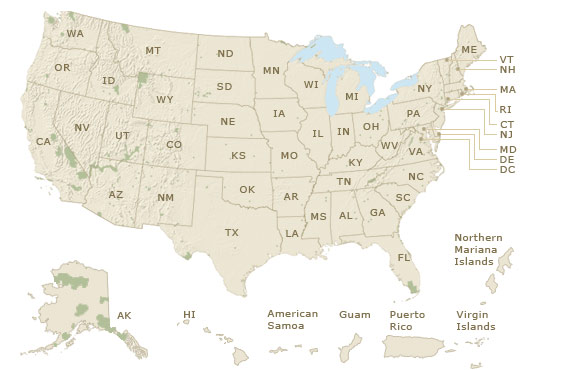 Commemorating Hispanic Heritage
San Juan National Historic Site
More than 500 years of history, architecture, and the blending of cultures in Puerto Rico are reflected in this park.
Salinas Pueblo Missions NM
Trace the story of two cultures - early Spanish settlers and Pueblo Indians - living together in the deserts of the Southwest.
César E. Chávez National Monument
Visit the home of the one of the most influential union leaders of the 20th century who championed the rights of the American farmers.
The Wilderness is Calling
Sequoia & Kings Canyon National Parks
Enjoy the sights of the Sierra Nevada wilderness, including rugged foothills, deep canyons, vast caverns, and the world's largest trees.
Guadalupe Mountains National Park
Trek through a Permian Era fossil reef, including climbing to the top of the highest point in Texas.
Everglades National Park
The Marjory Stoneman Douglas Wilderness protects nearly 1.3 million acres of diverse Florida ecosystems.
Hawai'i Volcanoes National Park
Complex and unique ecosystems are preserved in this International Biosphere Reserve and World Heritage Site.
Theodore Roosevelt National Park
In the spirit of Theodore Roosevelt, embark on your own adventure in the wilderness to spot bison, elk, prairie dogs, and wild horses.
Getaway to Chamizal National Memorial
Celebrate U.S. and Mexican heritage at this memorial dedicated to international friendship on the Texas-Mexico border.
Getaway to Theodore Roosevelt Island
A hidden oasis of nature in the nation's capital, Theodore Roosevelt Island is a living memorial to the 26th president.
Niobrara National Scenic River
Among the golden prairie of Nebraska flows a scenic river perfect for adventure-seekers or relaxation.
Olympic National Park
A stunning variety of sights, sounds, and experiences beckon visitors to the northwest corner of Washington state.