Find a Park by State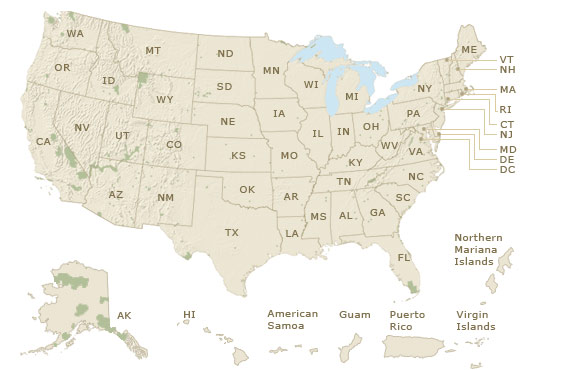 Investigating Archaeology
Ocmulgee National Monument
In the heart of Georgia lies a place that encompasses more than 17,000 years of human history.
Dry Tortugas National Park
Explore the underwater archaeology in the Gulf of Mexico, including shipwrecks and other historic artifacts.
Colonial National Historical Park
Ongoing archaeology at Historic Jamestowne helps reconstruct life in the earliest surviving English settlement in North America.
Wolf Trap NP for the Performing Arts
Contemporary artists from around the world showcase singing, dancing, and acrobatic talents on the stages of Wolf Trap.
Chamizal National Memorial
Soak in the sounds of musical performances by entertainers from around the world at a park dedicated to the performing arts.
Ford's Theatre National Historic Site
Nineteenth-century plays are performed on the newly renovated stage of the historic theater in the nation's capital.
Getaway to Friendship Hill NHS
In the rolling hills of western Pennsylvania, step back into the early days of the nation's history at the home of Albert Gallatin.
National Mall & Memorial Parks
Walk through a unique park In the heart of the nation's capital that binds together our nation's history.
Kobuk Valley National Park
Venture to the Alaskan wilderness to discover a largely unaltered landscape teeming with wildlife, stunning scenery, and resilient locals.
César E. Chávez National Monument
Journey to the California Sierra Nevada to learn about the life and legacy of a prominent 20th-century advocate for American farmworkers.