Find a Park by State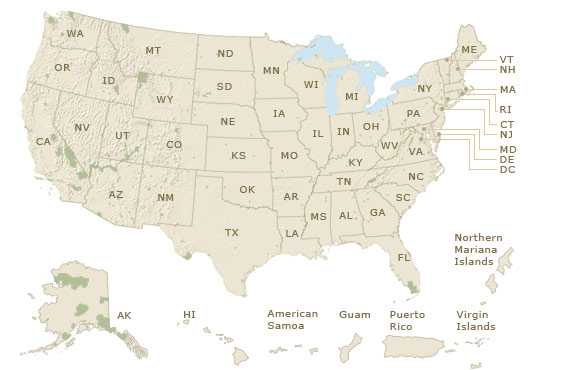 Minute Man National Historical Park
"The shot heard round the world" fired at Concord brought the conflict in the colonies to the battlefield and began the Revolutionary War.
Independence National Historical Park
Representatives from each of the colonies assembled in Philadelphia and ultimately signed a declaration of independence on July 3, 1776.
Colonial National Historical Park
After years of political and military struggle, the British surrender at Yorktown in 1781 signaled the beginning of the end of the war.
Acadia National Park
The sounds of sea can be heard along rugged coastline and rocky beaches of Maine.
Gila Cliff Dwellings National Monument
The "humming" and chirps of hummingbirds are abundant in the park during the summer months.
Badlands National Park
Gentle rustling of grass sometimes is over-shadowed by dramatic thunderstorms sweeping the prairie.
This Month's National Park Getaway
Meet four generations of an influential political family that helped guide a young nation at Adams National Historical Park.
Wind Cave National Park
Explore an exciting world above and below ground at a "two-in-one" park in the Black Hills of South Dakota.
Washita Battlefield NHS
Once a somber place of remembrance, these fields in Oklahoma have become a place where communities can come together.
Natural Bridges National Monument
When the sun goes down over the spectacular geological formations, darkness fills the canyon and the night sky comes to life.