Find a Park by State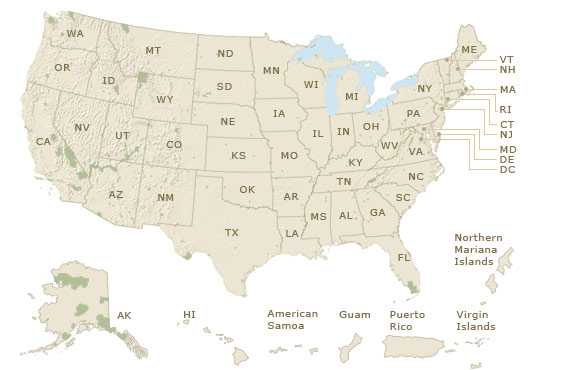 World War I Battles on the Home Front
Charles Young Buffalo Soldiers NM
African Americans serving in the military during World War I faced unique challenges from their own country.
Belmont-Paul Women's Equality NM
Discussions of democracy during the war helped reenergize the suffragist movement leading to the passing of the 19th Amendment.
National Mall & Memorial Parks
Years after World War I ended, thousands of veterans converged on the nation's capital to fight for bonuses and fair treatment.
Nez Perce National Historical Park
Spread across four states, the park preserves the history and heritage of the Nez Perce, or Nimiipuu people.
Navajo National Monument
Visit the homes of the Ancestral Puebloans who paved the way for current Native American groups in the Southwest.
Timucuan Ecological & Historic Preserve
The coastal wetlands of the lower Southeast have been home to numerous peoples, including the Timacuan, over the last 6,000 years.
This Month's National Park Getaway
Experience a defining legacy in landscape architecture firsthand at Frederick Law Olmsted National Historic Site in Massachusetts.
Appalachian National Scenic Trail
Stretching 2,200 miles across 14 states past history and stunning scenery, the iconic trail draws thousands of hikers each year.
Devils Tower National Monument
A rocky sentinel at Devils Tower National Monument has stood watch over the Black Hills in Wyoming for millions of years.
LBJ Memorial Grove on the Potomac
Across the river from the classical stone monuments in downtown DC is a "living" memorial dedicated to the 36th US president.