Find a Park by State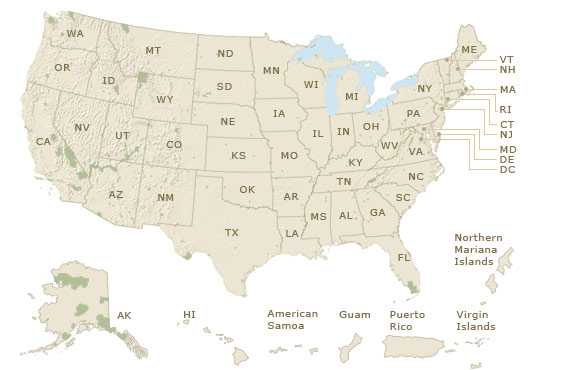 Celebrating Caribbean American Heritage
Salt River Bay NHP & Ecological Preserve
Remnants of Caribbean cultures are preserved in archaeological sites along the Salt River Bay on Saint Croix Island.
San Juan National Historic Site
More than 500 years of history, architecture, and merging of cultures in Puerto Rico are reflected in this park.
Christiansted National Historic Site
Walk through history and learn more about the rich blend of cultures in the Virgin Islands at this historic site.
Waiting in the Wilderness
Olympic National Park
With 95% of the park designated a wilderness area, visitors can explore several distinctly different pristine ecosystems.
Shenandoah National Park
Almost 80,000 acres of wilderness contain cascading waterfalls, spectacular vistas, quiet wooded hollows, and delicate wildlife.
Lake Clark National Park & Preserve
The mountains, lakes, and valleys of the Alaskan wilderness are home to a variety of plants and animals.
Everglades National Park
The Marjory Stoneman Douglas Wilderness protects nearly 1.3 million acres of diverse Florida ecosystems.
Yosemite National Park
Yosemite's deep valleys, grand meadows, giant sequoias, and vast wilderness captivated the likes of John Muir and Theodore Roosevelt.
This Month's National Park Getaway
Explore an exciting world above and below ground at Wind Cave National Park in the Black Hills of South Dakota.
Washita Battlefield NHS
Once a somber place of remembrance, these fields in Oklahoma have become a place where communities can come together.
Natural Bridges National Monument
When the sun goes down at Natural Bridges National Monument, darkness fills the canyon and the night sky comes to life.
Belmont-Paul Women's Equality NM
In the shadow of the U.S. Capitol and Supreme Court, this home and headquarters captures the struggle for women's suffrage and rights.