Find a Park by State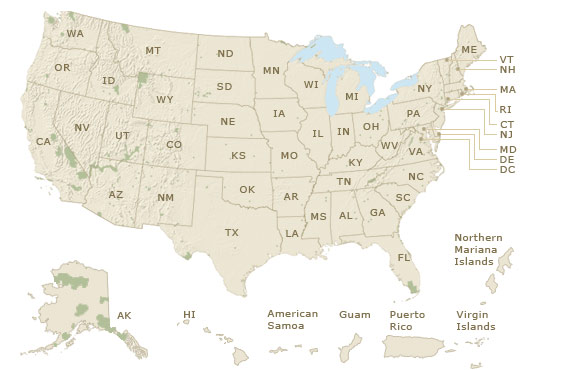 Thomas Stone National Historic Site
A delegate of Maryland, Thomas Stone risked everything when he joined 55 others in signing the Declaration of Independence in 1776.
Charles Pinckney National Historic Site
Visit the South Carolina Lowcountry to learn about Charles Pinckney, the principle author and signer of the U.S. Constitution.
National Mall & Memorial Parks
Among the monuments of D.C., the George Mason Memorial commemorates Mason's influence in establishing the Bill of Rights.
Cape Cod National Seashore
Have a day of play at the beach! Enjoy splashing in the water, building sand castles, or basking in the sun.
National Capital Parks - East
Visit Kenilworth Park & Aquatic Gardens early in the morning to see the famous water lilies in full bloom.
Ross Lake National Recreation Area
Pack a picnic and take a trip on the lake offering stunning views of the North Cascades.
Carlsbad Caverns National Park
Always a crisp 56 degrees, Carlsbad Cavern is a cool place to be on a hot desert day.
Biscayne National Park
Dive underwater to explore the Maritime Heritage Trail. See wildlife and shipwrecks along the way.
Redwood National & State Parks
Keep cool in the shade of some very, very tall trees. Hike, bike, or camp under old-growth forests of redwoods.
Getaway to Niobrara NSR
Discover this scenic river decorated with waterfalls and bluffs hidden in the golden prairie land of Nebraska.
Olympic National Park
A stunning variety of sights, sounds, and experiences beckon visitors to the northwest corner of Washington state.
First State National Historical Park
Delve into the rich heritage of Delaware from the first settlers to building a new nation and the exciting opportunities today.
Yukon-Charley Rivers National Preserve
A place of adventure and solitude awaits in the wilderness of Alaska. Start your journey.