Find a Park by State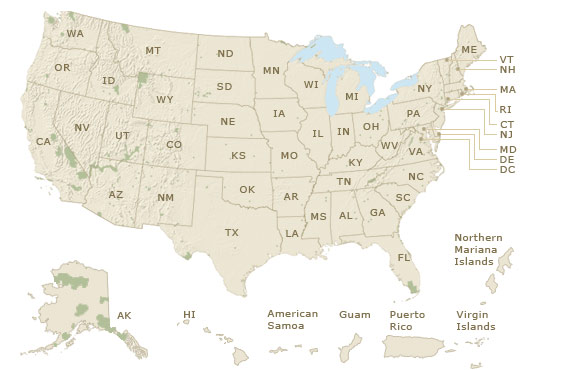 Harriet Tubman Underground Railroad NHP
Born into slavery in Maryland, Harriet Tubman became a legendary conductor on the Underground Railroad, leading others to freedom.
Belmont-Paul Women's Equality NM
A national leader in the struggle for women's rights, Alice Paul was influential in redefining the early 20th-century suffragist movement.
Everglades National Park
Marjory Stoneman Douglas, a 20th-century conservationist, led the effort to preserve miles of wetlands for future generations to enjoy.
Minute Man National Historical Park
The Wayside was home to not one, but three famous literary families with work between them spanning three centuries.
Yosemite National Park
Author Maria Yelverton thrilled 19th-century readers with her tales of adventure in Yosemite and captured its rugged beauty in prose.
Longfellow House
Longfellow House-Washington Headquarters National Historic Site was home to one of the most preeminent poets of the 19th century.
Getaway to Bandelier National Monument
Abounding with wildlife today, explore the rugged canyons and mesas that were once home to the Ancestral Pueblo people of New Mexico.
New Orleans Jazz NHP
Experience the sounds of jazz in the city where it all began at this unique park dedicated sharing our nation's musical heritage.
Hovenweep National Monument
Walk in the footsteps of the ancestral Pueblo people of Utah and Colorado, while also discovering the vast night sky and desert wildlife.
Ocmulgee National Monument
In the heart of Georgia lies a place that encompasses more than 17,000 years of human history.