Find a Park by State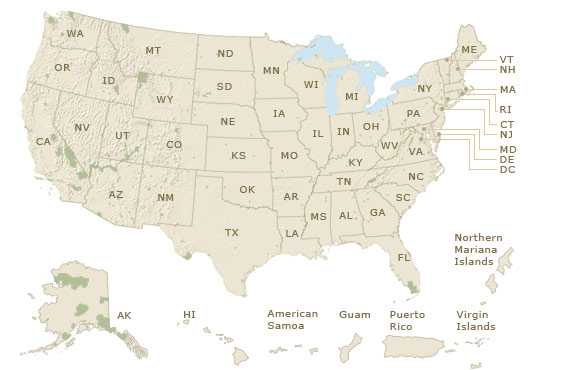 The Life & Legacy of Dr. Martin Luther King, Jr.
Martin Luther King, Jr., NHS
Walk the streets of Dr. King's community where he was born, spent his childhood years, and mobilized national civil rights movements.
Selma to Montgomery NHT
Trace the 54-mile journey that Dr. King and fellow supporters marched together to spread a message of freedom and equality.
Martin Luther King, Jr. Memorial
Reflect on the messages and legacy of Dr. King at his national memorial in the heart of the nation's capital.
North Cascades National Park
The North Cascades beckon the seasoned winter adventurer to explore the jagged peaks and glaciers.
Kenai Fjords National Park
Accessible by fat bikes, cross-country skis, snowmobile, and dog sleds only, the Exit Glacier is an adventurer's paradise during the winter.
Voyageurs National Park
Ice-fishing, skiing, and sledding are a few ways to enjoy the winter beauty and wildlife of the park.
Where the "Snowbirds" Nest
Haleakalā National Park
Escape the cold by visiting the sub-tropical rain forest and volcanic landscape in Hawaii with stunning vistas and unique wildlife.
White Sands National Monument
Go sledding without the snow or cold on the glistening white sands of New Mexico.
Dry Tortugas National Park
Take a splash to explore an underwater world full of marine life and shipwrecks off the coast of the Florida Keys.
Getaway to Waco Mammoth NM
Open a door into the Ice Age and learn about prehistoric life preserved in a paleontological site in Texas.
Hopewell Culture NHP
Travel to the gently rolling hills of Ohio to discover the Hopewell tradition preserved in large prehistoric earthen mounds.
Wupatki National Monument
In the Painted Desert of northern Arizona, explore the ruins of ancient pueblos where communities once thrived.
Friendship Hill National Historic Site
In the rolling hills of western Pennsylvania, step back into the early days of the nation's history at the home of Albert Gallatin.