Fishing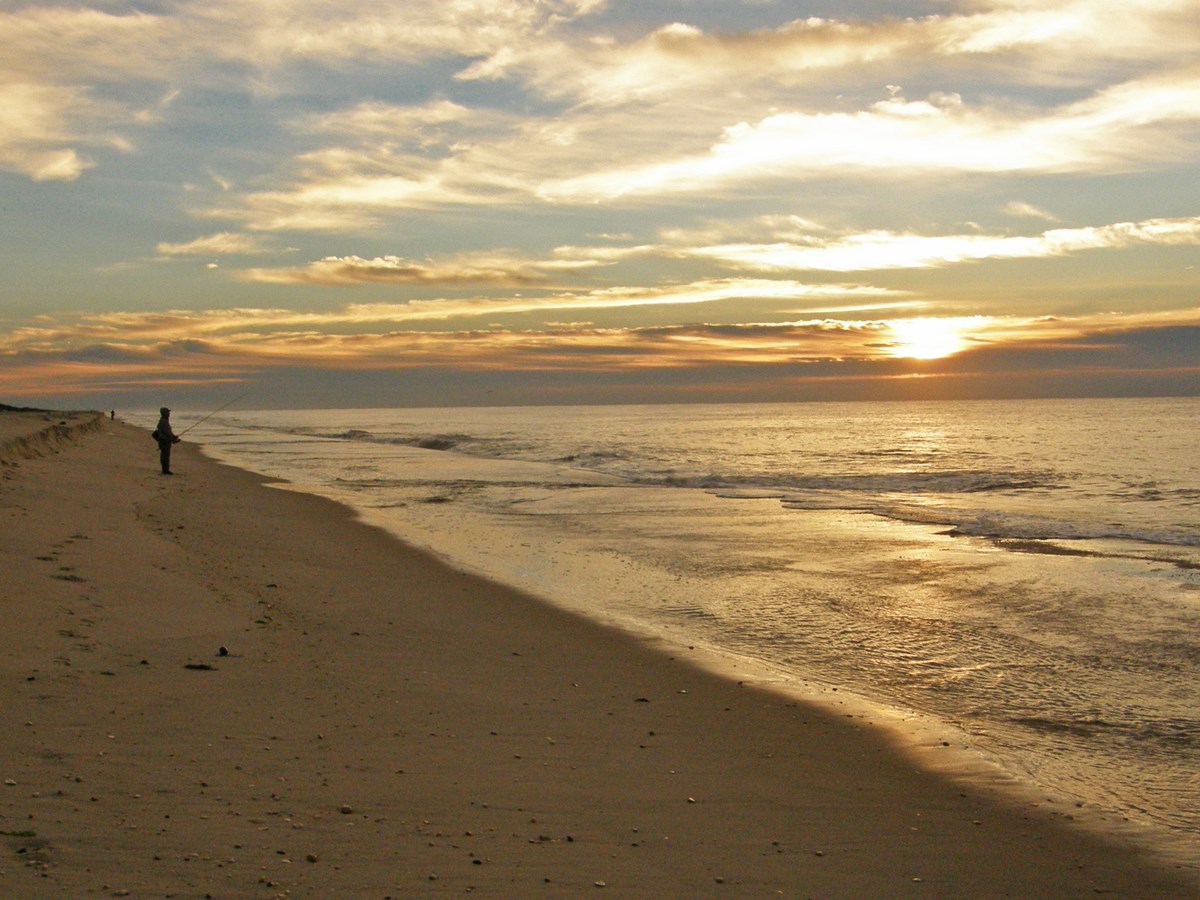 Fishing Fun for Everyone
Though some of the best fishing is during spring and fall, fisher folk over the age of 16 can enjoy casting a line anytime on Fire Island with a free, New York State recreational marine fishing registry. (New York State recreational saltwater fishing seasons, size and possession limits apply. Commercial fishing is not allowed within the boundaries of Fire Island National Seashore.)

Surf-fishing is an activity you can enjoy throughout the year on Fire Island. When ferry service is limited or the boating season is over, you may still drive to either end of the island for access to the beach. (Parking fee or recreational driving permit may be required.)

Those who are new to the sport, or have children who are learning to fish, can join surf-casting clinics, seining programs, and the Annual Snapper Derby at National Park Service sites on Fire Island. Be sure to check the calendar of events for fishing programs before you visit.
Where can I fish?
Striped bass, bluefish, and fluke are the most sought after species and there are plenty of places to fish. Fishing is allowed on private vessels; ocean beaches outside of designated lifeguarded areas; on the bay shoreline; and authorized docks and piers outside of NPS marinas, including Patchogue Headquarters, Patchogue Ferry Terminal, and Talisman Dock. However, fishing is not permitted on the Lighthouse Pier or on a vessel within 300 feet of the pier.

New York State Department of Environmental Conservation maintains two artificial fishing reefs in the Great South Bay, and several in the Atlantic Ocean south of Fire Island. Nearby Captree State Park-on the eastern end of Jones Beach Island and north of the Fire Island Inlet-offers access to several charter fishing boats. Boat ramps for private vessels are also available at Captree and several other nearby state parks, and at Smith Point County Marina.
Know Before You Go
The harvest of horseshoe crabs is prohibited within Fire Island National Seashore.
Sportsman's Recreational Vehicle Permits are sold in the fall when beach conditions permit, as a means of access for fishing or hunting. Stringent restrictions apply.
Last updated: September 2, 2020