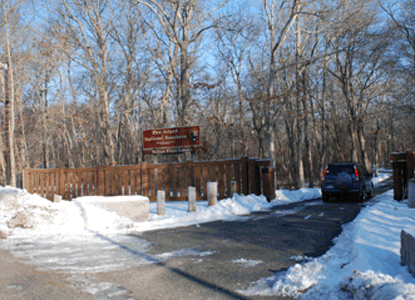 News Release Date:
January 28, 2011 Fire Island National Seashore is offering a variety of winter hikes and other programs this year including several at the William Floyd Estate in Mastic Beach. While the 613-acre Estate is closed over the winter, its grounds will be open for several special weekend tours, weather and conditions permitting.
Naturalist MaryLaura Lamont is conducting a 2-hour, 2-mile ranger-guided tour, the "William Floyd Estate Winter Woods," on Sunday, January 23 and Sunday, February 27. A longer 3-hour 3-mile hike, "Old Mastic Way to the Bay," which follows historic trails through the fields and woods to the salt marsh and bay, is offered on Saturday, January 29, and Saturday, February 26. Her Great Backyard Bird Walk is scheduled for Saturday, February 19 (rain/snow date: Sunday, February 20). Additional "Old Mastic Winter Bird Walks" are scheduled for Saturday, March 5, and Sunday, March 20, 2011. Each of these free programs starts at 9:00 a.m. and involves a 2- to 3-mile roundtrip hike.
Experiencing the winter woods in their dormant state is so different from the growing time of summer. You can find and identify plants, seeds, birds, and the occasional evidence of other animal life on these serendipitous exploratory hikes. "Something of interest always seems to turn up on each hike through the Estate," said Lamont, "whether it's an appearance by a resident fox, tracks that tell a story in the snow, or a sighting of an unusual bird." Winter hiking includes another bonus: no ticks or mosquitoes!
On these hikes, you'll explore a fascinating cultural landscape, as well. The ranger-guided walk from the Old Mastic House to the bay follows roads well used by the Floyd family from the mid-1700s. Along the way, you can discover signs of historic uses of the property as you pass through fields and woods, along mounds and ditches, cultural plantings, fresh water creeks, and the salt marsh on Moriches Bay.
Wear or bring layers of winter clothing appropriate for the local weather. Wear sturdy hiking boots or snow boots, according to conditions of the roads and trails. Be prepared for a 2 - 3 mile roundtrip walk.
The main entrance to the William Floyd Estate is located at 245 Park Drive, Mastic Beach, NY 11951. Call the Estate at 631-399-2030 for more information.
Check the calendar of events for additional programs.