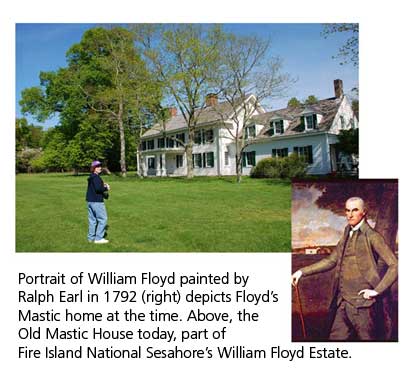 News Release Date:
September 22, 2011
Contact: Paula Valentine, 631-687-4759
Patchogue, New York- Fire Island National Seashore Superintendent Chris Soller announced that the National Park Service (NPS) has released a newsletter outlining William Floyd Estate Preliminary Management Alternatives. The review and comment period for the content of this newsletter will be open through October 31, 2011.
This newsletter is the third in a series prepared for the Seashore's general management planning process. The newsletter specifically relates to the William Floyd Estate and includes important background information, describes the current management of the Estate and presents one preliminary management alternative entitled "Historical Park and Museum."
The William Floyd Estate is a separate and distinct unit of Fire Island National Seashore with its own set of unique characteristics. The Estate is located at 245 Park Drive in Mastic Beach, NY 11951. Its grounds and the Old Mastic House (birthplace and home of one of New York's four signers of the Declaration of Independence) are open on Friday through Sunday and holidays, Memorial Day weekend through mid-November. A variety of special tours and programs are currently offered at the Estate.
Copies of the Fire Island National Seashore GMP Newsletter 3, September 2011, may be obtained at park visitor contact facilities, and it is available on-line.
Public input is crucial to assist the NPS in refining the alternatives for presentation in a formal draft General Management Plan/Environmental Impact Statement (GMP/EIS), and the identification of the NPS preferred alternative.
The public comment period for the William Floyd Estate preliminary management alternatives opened on September 21 and comments will be accepted online at the NPS Planning, Environment & Public Comment (PEPC) website through October 31, 2011:
Comments may also be submitted through several other avenues:
By e-mail: fire_island_gmp@nps.gov

By mail: Fire Island National Seashore GMP

15 State Street

Boston, MA 02109

Attn: Ellen Carlson, Project Manager

By fax: 617-223-5164
For more information about Fire Island National Seashore, visit the park's web site at www.nps.gov/fiis.
# # #