Date:
September 4, 2009
Contact:
Michael Bilecki
, 631-587-4760
Contact:
Jordan Raphael
, 631-687-4769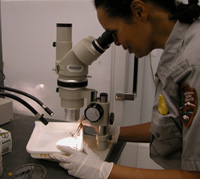 Patchogue, New York— Fire Island National Seashore announced today that a sample of mosquitoes infected with West Nile virus (WNV) has been found on Fire Island. The National Park Service collected the mosquitoes on August 26 from a light trap on federal land just west of the Wilderness Visitor Center. The mosquitoes were from a trap set by the Park as part of its weekly monitoring program. Testing was done by the New York State Department of Health, Arthropod-Borne Disease Program, in Albany. This program is a collaborative effort between the Park and Suffolk County Department of Health Services, which announced the positive results on September 4.
The freshwater Culex species of mosquitoes in the pool that tested positive for WNV is not thought to generate a major human health concern as of now because it does not readily bite humans. No WNV-infected dead birds have been found within the boundaries of Fire Island National Seashore this year.
The National Park Service works closely with the Centers for Disease Control (CDC), the New York State Department of Environmental Conservation (DEC), Suffolk County Vector Control, and local Fire Island and Long Island municipalities to determine the best course of action to protect residents, visitors and employees of the Seashore. When threats to human health (such as the presence of West Nile virus) occur, actions to protect the public may include control methods such as applying larvicide or spraying. The public will be notified 24 hours in advance of any spray event. Information on the date and exact location of any spraying can be found on the Suffolk County web site at www.suffolkcountyny.gov/health or by calling 631-852-4939. Suffolk County Vector Control is currently authorized to spray within the Fire Island communities using ultra low volume backpack or truck-mounted sprayers.
The park is continuing its surveillance program to monitor the severity and extent of West Nile virus in the Seashore. As per the Park's standard operation procedures, there will be an amplified surveillance in the area where West Nile virus has been detected.